(This article is a review of the AsRock DeskMeet B660)
I am a big fan of small PCs, and I am very grateful for them, living in a small house in Tokyo, Japan.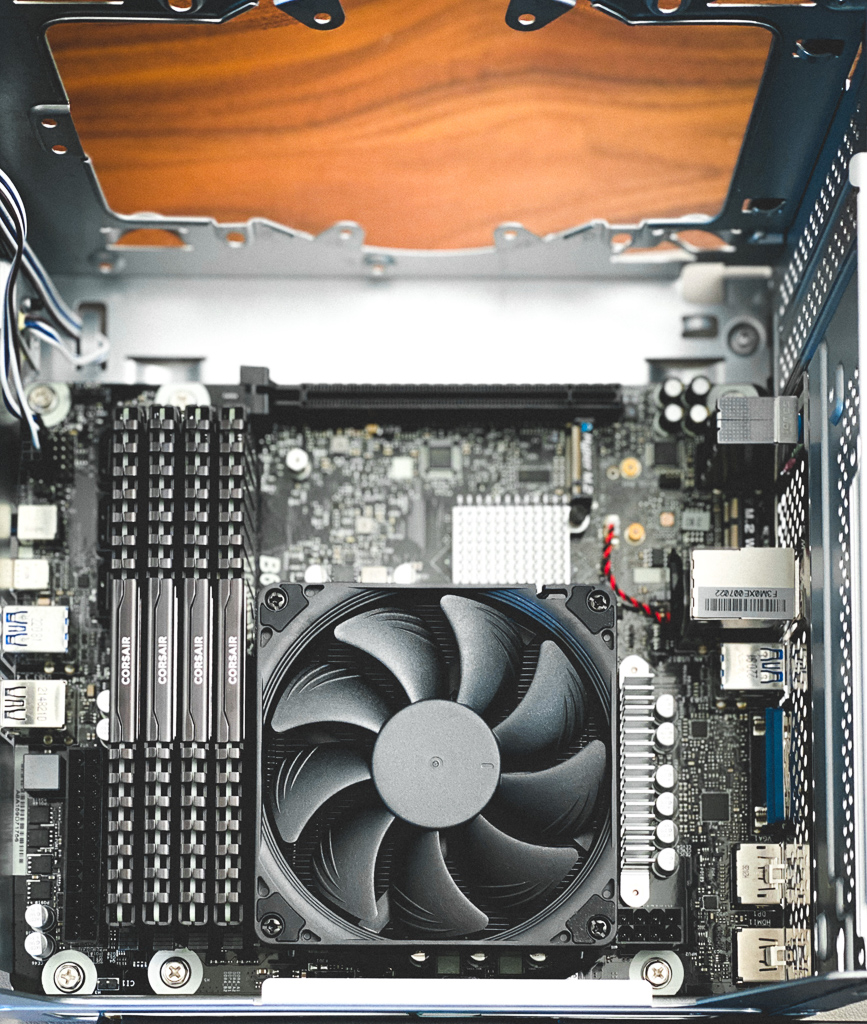 Spec
CPU
- 第 12 世代 Intel® Core™ プロセッサーに対応 (LGA1700)
冷却
- Intel® CPU Cooler (Max. Height ≦ 54mm)
メモリー
- デュアルチャンネル DDR4 メモリ Technology
- 4 x DDR4 DIMM slots (Max. 128GB)
- DDR4 3200/2933/2800/2666/2400/2133 non-ECC, un-buffered memory*
*Supports DDR4 3200 natively.
チップセット
- Intel® B660
グラフィックチップ
- a discrete Dual slot Graphics card up to 20CM
サウンド
- Realtek ALC897 オーディオ Codec
ネットワーク
- Giga PHY Intel® I219V
ストレージ
- 3 x SATA3 6.0Gb/s ポートs
- 1 x Hyper M.2 Socket (M2_1)
- 1 x Hyper M.2 Socket (M2_2)
拡張スロット
- 1 x PCIe 4.0 x 16
- 1 x M.2 Socket (Key E),
supports type 2230 Wi-Fi/BT module and
Intel® CNVi (Integrated Wi-Fi/BT)
フロント出力/入力
- 1 x ヘッドフォン/ヘッドセットジャック
- 1 x USB 3.2 Gen1 Type-C
- 2 x USB 3.2 Gen1 Type-A
- 2 x USB 2.0 Type-A
後部出力/入力
- 1 x DisplayPort 1.4
- 1 x HDMI
- 1 x D-Sub
- 2 x USB 2.0
- 2 x USB 3.2 Gen1 Type-A
- 1 x RJ-45 LAN ポート
- HD オーディオ Jacks: ラインイン / フロントスピーカー / マイクロフォン
コネクタ
- 1 x シャーシイントルージョンヘッダー
- 1 x CPU ファンコネクタ (4-pin)
- 1 x シャーシ/ウォーターポンプファンコネクタ (4-pin)
- 1 x 24 pin ATX 電源コネクタ
- 1 x 8 pin 12V 電源コネクタ
- 1 x フロントパネルヘッダー
- 1 x USB 2.0 ヘッダー (2基の USB2.0 ポートに対応) (ESD 保護に対応)
容積 (リットル)
- 8L
電源
- 500W 電源 (80+ Bronze、ピーク 550W)
付属品
- クイックインストールガイド
- 2 x SATAフラットケーブル
- 1 x ねじパッケージ
サイズ
- 168 (幅) x 219.3 (D) x 218.3(高さ) mm (突出部を除く)
- 168 (幅) x 236.1 (D) x 221.6(高さ) mm (突出部を含む)
It's a barebone style of motherboard + power supply + case.
PCIe card (2 slots) can be installed in a very small 8L case
Four DDR4 memory slots
Can be loaded with 3.5″ HDD, 2.5″ HDD/SSD, etc. quite a bit.
500W power supply included
By the way, some people say it's "big" compared to DeskMini, but I personally think it's "MINI".
Personally, I felt that it's just like this as a mini-itx case, and the lack of depth makes it feel less oppressive than you might expect.
The accessories are as follows.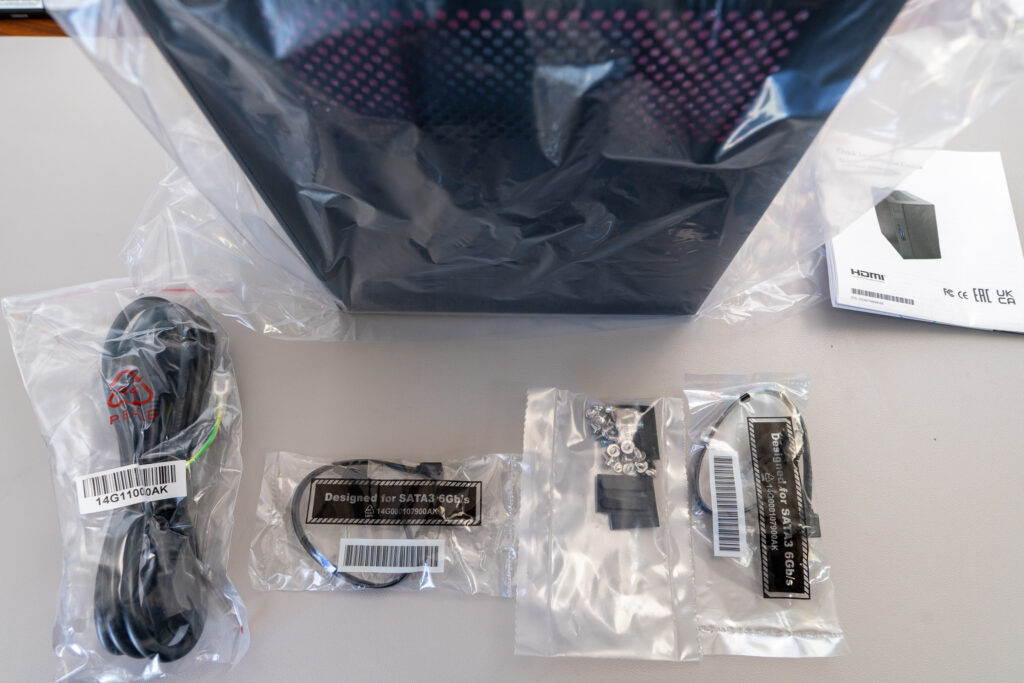 memory slot
The motherboard is mini-itx sized, but
One of the advantages of DeskMeet is that it has four memory slots.
As you know, a normal mini-itx motherboard has two memory slots.
If you want to put 64GB of memory and insert 32GB DDR5*2, you will have to spend a lot of money, even though the price is lower. On the other hand, DeskMeet has 4 slots and DDR4, so you can add more memory at a reasonable price.
PCIe
One PCIe slot is provided. Normally, a graphics card would be inserted in this slot.
If you like, you can put other cards, such as NICs.
Other terminals
Front: Audio jack, USB-C port, USB 3.2 Gen1 Type-A2, USB 2.0 Type-A2
Rear: 3 video jacks (DP/HDMI/D-Sub), RJ-45 (1Gbps Intel), USB 2.02, USB 3.2 Gen1 Type-A2, audio jacks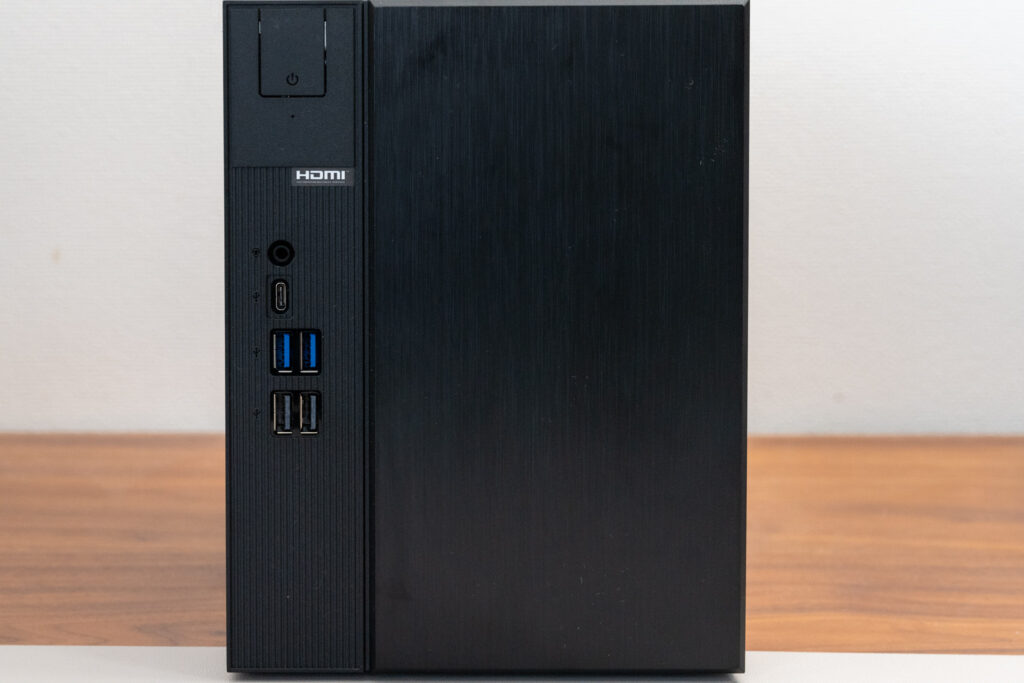 Smaller models (DeskMini X300, etc.) lacked a USB port, but this is all you need.
I appreciate the fact that it has an Intel NIC, but I would have preferred 2.5G if I wanted…
Using DeskMeet as a base machine for virtual environments
Main topic.
VMs are currently used for various purposes including application development. I also use a "VM on NAS" when I want to experiment, but… it's too slow.
If possible, I want to use a machine that can handle a large amount of memory with the latest CPU.
I want a machine that can handle a lot of memory, and I want it to be small and affordable.
DeskMeet is the only way.
Sorry to those of you who were hoping for a gaming DeskMeet. I hope to do a review in that direction someday…
machine-spec
Specification Overview
MB・ケース
Asrock
DeskMeet B660
CPU
Intel
Core i5 12400
CPUクーラー
noctua
Noctua NH-L9i-17xx chromax.black
メモリ
CORSAIR
DDR4 32GB 3600MHz * 4
CMK64GX4M2D3600C18
M.2 SSD
SAMSUNG
970 PRO 512GB
2.5inch SSD
crucial
BX500 1TB
PCIeカード
Intel
I225-T1
Ethernet Network Adapter
2.5Gbps
CPU
As for the E-cores on Alder Lake, I've seen information that they are not recognized by VMware ESXi (disable E-cores or else it won't boot?). The highest number of P-cores is… 12900(K)/12700(K) with 8 cores. But I have a rationale that I don't want to put that in a chassis like this. Therefore, I chose the intel core-i5 12400 (6 P-cores), which seemed to be well-balanced. I chose a model with built-in graphics.
By the way, because I am a Noctua believer, the CPU cooler is Noctua.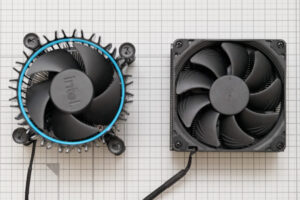 Memory
In a virtual environment, there is no need to have too much memory.
Let's take advantage of the fact that there are 4 slots and use the most powerful configuration, "32GB*4=128GB"!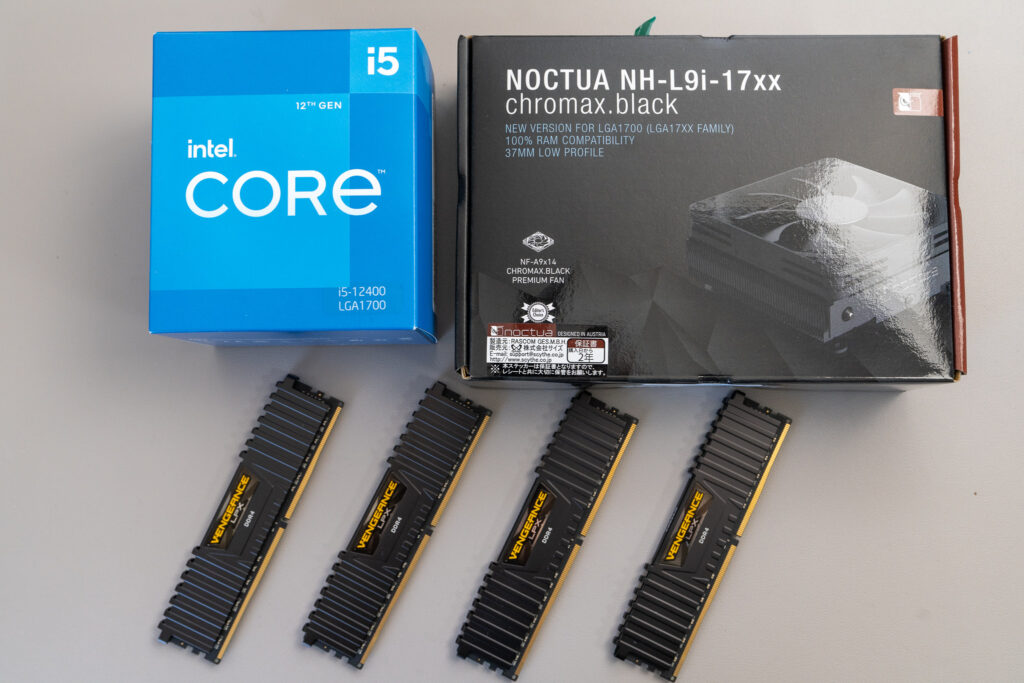 assembly
since it is a barebone, all you have to do is attach the parts.
The layout is well thought out. The fan of the power supply is facing the opposite direction from usual (sucking fresh air from the outside) to hit the CPU, which is bizarre but makes sense. Well, as the load on the power supply increases, the air temperature is likely to increase, but since it is 500W, the temperature will not be that high….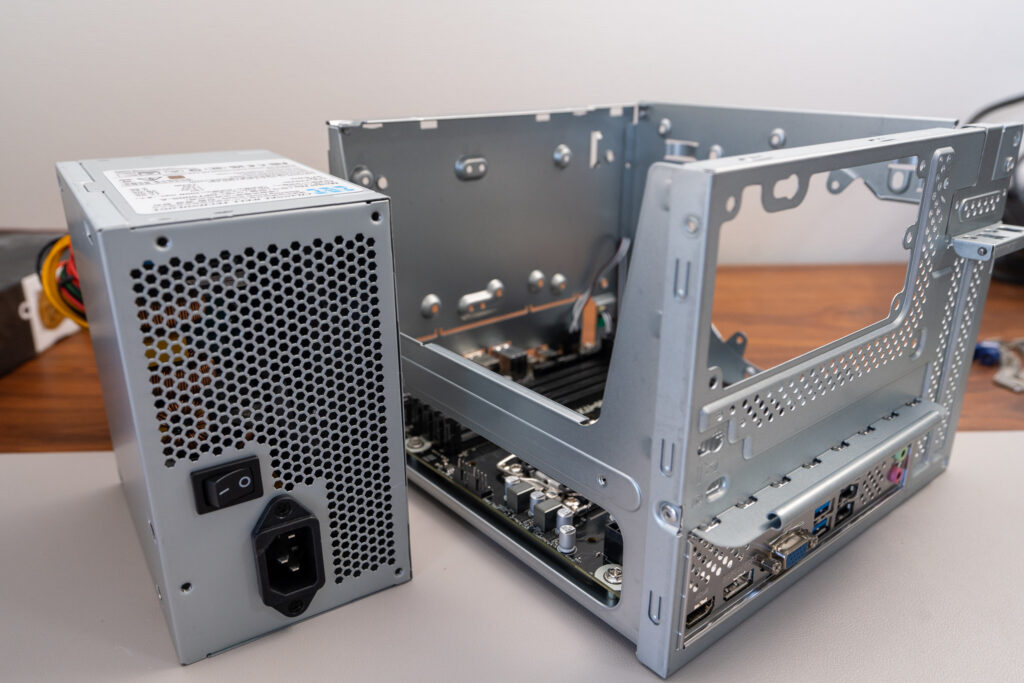 NIC" for PCIe slots.
Since I want to make this machine suitable for virtual development environment, I will install Intel's 2.5Gbps NIC I225-T1 in the PCIe slot, not a graphics card, to compensate for the non-powerful on-board. I don't want to waste my time on ESXi (with Intel chip, I don't have to worry about drivers).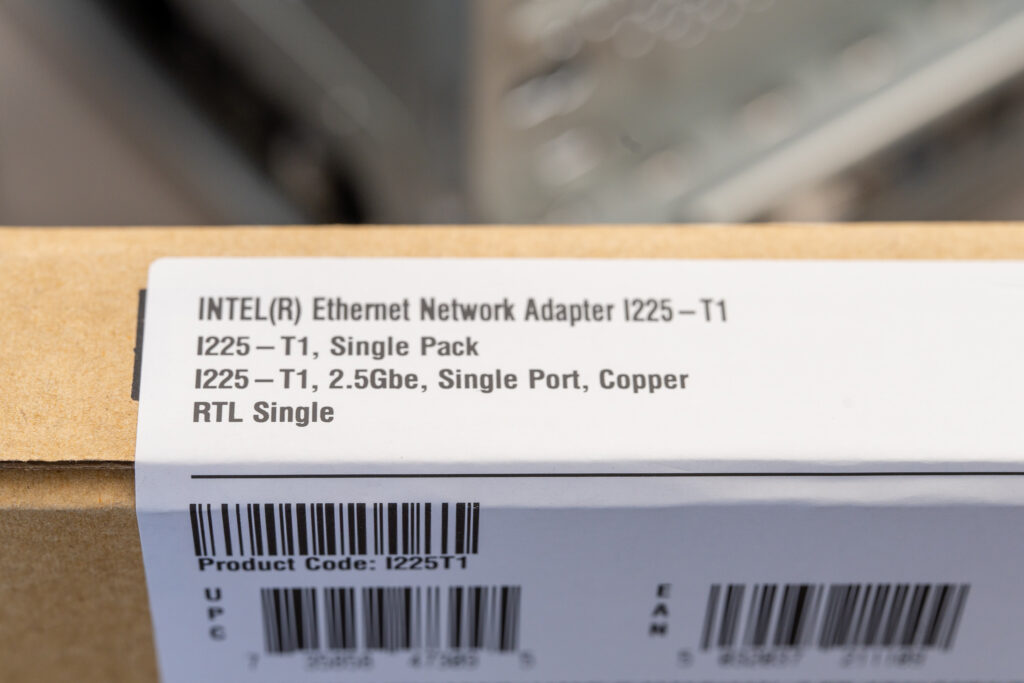 Since it is not a graphics card, it occupies only one slot (and a short one at that), so it is a space-saver. To improve airflow, we decided to add a 120mm fan to exhaust air from the top.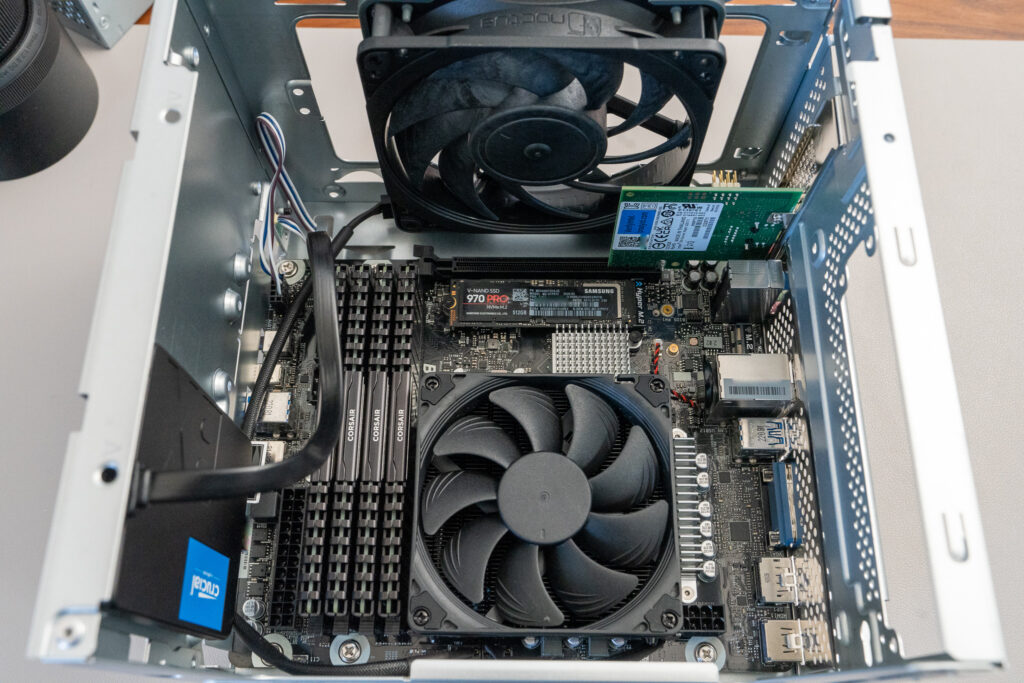 ESXi
The procedure is as follows. The following site was used as a reference.
Download ESXi offline bundle (7.0.3) VMware-ESXi-7.0U3d-1948XXXX-depot
Net-Community-Driver applied *maybe you don't need it…
Apply nvme-community-driver
Create ISO image
Create boot USB
consideration
Performance on ESXi varies depending on the configuration, but for reference, here are the results of running Cinebench R23 under the following conditions.
used 8 vCPUs (since this is the free version of ESXi),
no utilization limits, etc.
32GB memory allocation
Windows 10 Pro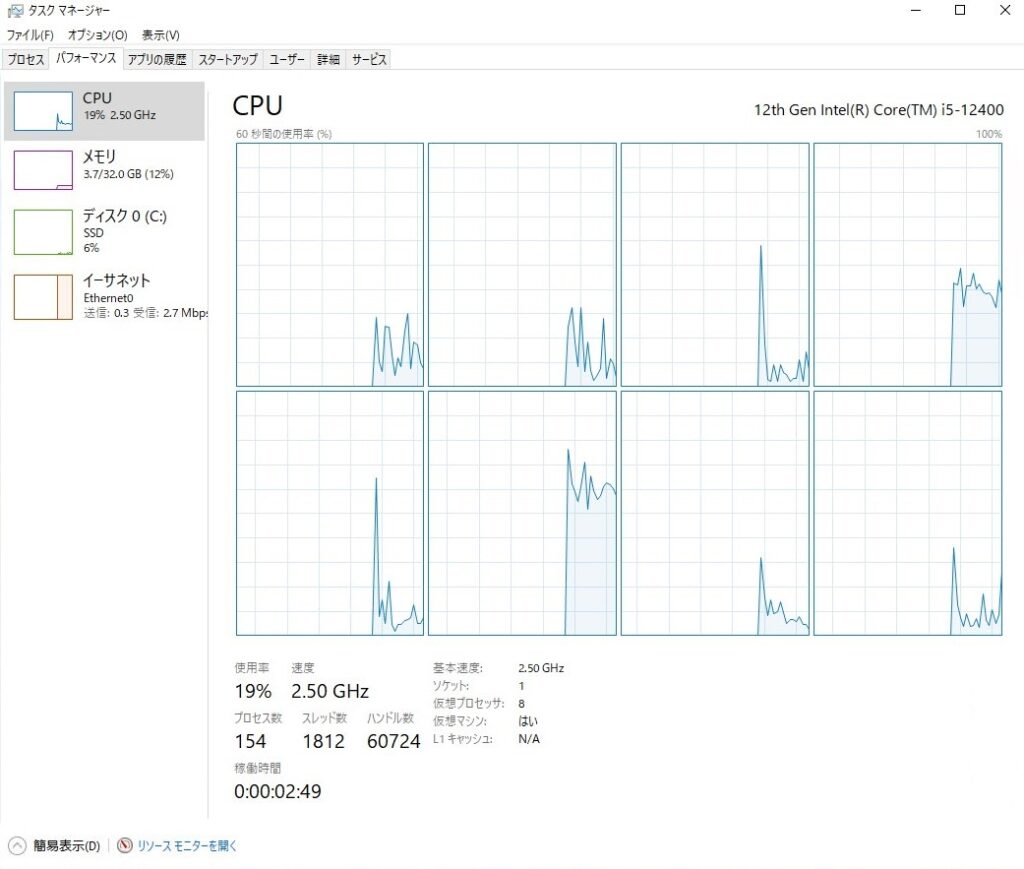 Score is 10091.(12400 used with 8 threads)
Windows 10 on ESXi 7.0.3 における CineBench R23のスコア比較
CPU
コア(スレッド)
CineBench R23 参考値
12700K
12 (20)
22800
12600K
10 (16)
17700
12400
6 (12)
12400
12400 (ESXi)
(8)
※vCPU8
※1ソケット設定
10100
12100
4 (8)
8400
【参考】https://pcrecommend.com/cpu/cinebench-r23/
summary
I tried AsRock's "DeskMeet B660" for "virtual environment" use, and it was more comfortable than expected.
Good
8 liter size, equipped with PCIe slots.
Four memory slots, XMP readable
Includes power supply, CPU, memory, storage, OS, etc. You can have a very small and extreme machine without worrying
3.5″ HDD can be installed.
Onboard NIC made by intel
regrettable point
The onboard NIC is 1Gbps, which is somewhat slow nowadays
It is really amazing that there are almost no blind spots.
It will be fun to make it into a gaming PC, too. (The end)