(This article is a review of AsRock DeskMeet B660)
In this article, we would like to consider CPU coolers. This is the second part of the review.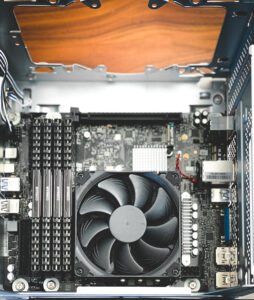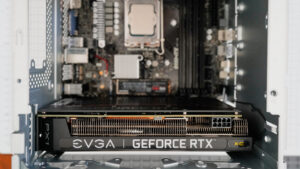 spec
Let's review the DeskMeet B660 specifications again.
CPU
- 第 12 世代 Intel® Core™ プロセッサーに対応 (LGA1700)
冷却
- Intel® CPU Cooler (Max. Height ≦ 54mm)
メモリー
- デュアルチャンネル DDR4 メモリ Technology
- 4 x DDR4 DIMM slots (Max. 128GB)
- DDR4 3200/2933/2800/2666/2400/2133 non-ECC, un-buffered memory*
*Supports DDR4 3200 natively.
チップセット
- Intel® B660
グラフィックチップ
- a discrete Dual slot Graphics card up to 20CM
サウンド
- Realtek ALC897 オーディオ Codec
ネットワーク
- Giga PHY Intel® I219V
ストレージ
- 3 x SATA3 6.0Gb/s ポートs
- 1 x Hyper M.2 Socket (M2_1)
- 1 x Hyper M.2 Socket (M2_2)
拡張スロット
- 1 x PCIe 4.0 x 16
- 1 x M.2 Socket (Key E),
supports type 2230 Wi-Fi/BT module and
Intel® CNVi (Integrated Wi-Fi/BT)
フロント出力/入力
- 1 x ヘッドフォン/ヘッドセットジャック
- 1 x USB 3.2 Gen1 Type-C
- 2 x USB 3.2 Gen1 Type-A
- 2 x USB 2.0 Type-A
後部出力/入力
- 1 x DisplayPort 1.4
- 1 x HDMI
- 1 x D-Sub
- 2 x USB 2.0
- 2 x USB 3.2 Gen1 Type-A
- 1 x RJ-45 LAN ポート
- HD オーディオ Jacks: ラインイン / フロントスピーカー / マイクロフォン
コネクタ
- 1 x シャーシイントルージョンヘッダー
- 1 x CPU ファンコネクタ (4-pin)
- 1 x シャーシ/ウォーターポンプファンコネクタ (4-pin)
- 1 x 24 pin ATX 電源コネクタ
- 1 x 8 pin 12V 電源コネクタ
- 1 x フロントパネルヘッダー
- 1 x USB 2.0 ヘッダー (2基の USB2.0 ポートに対応) (ESD 保護に対応)
容積 (リットル)
- 8L
電源
- 500W 電源 (80+ Bronze、ピーク 550W)
付属品
- クイックインストールガイド
- 2 x SATAフラットケーブル
- 1 x ねじパッケージ
サイズ
- 168 (幅) x 219.3 (D) x 218.3(高さ) mm (突出部を除く)
- 168 (幅) x 236.1 (D) x 221.6(高さ) mm (突出部を含む)
Although the case capacity is very small at 8 liters, it is a dream PC case that can also accommodate a graphics card.
However, there is a problem that comes to mind when a PC case becomes small, isn't there?
That's right.
Can the CPU be cooled?
This is a problem.
What is the best CPU cooler for Desk Meet?
Of course the stock cooler "Intel Laminar RM1" on without "K" CPUs such as 12400/13400, 12700/13700 is fine, but there is still a difference in performance.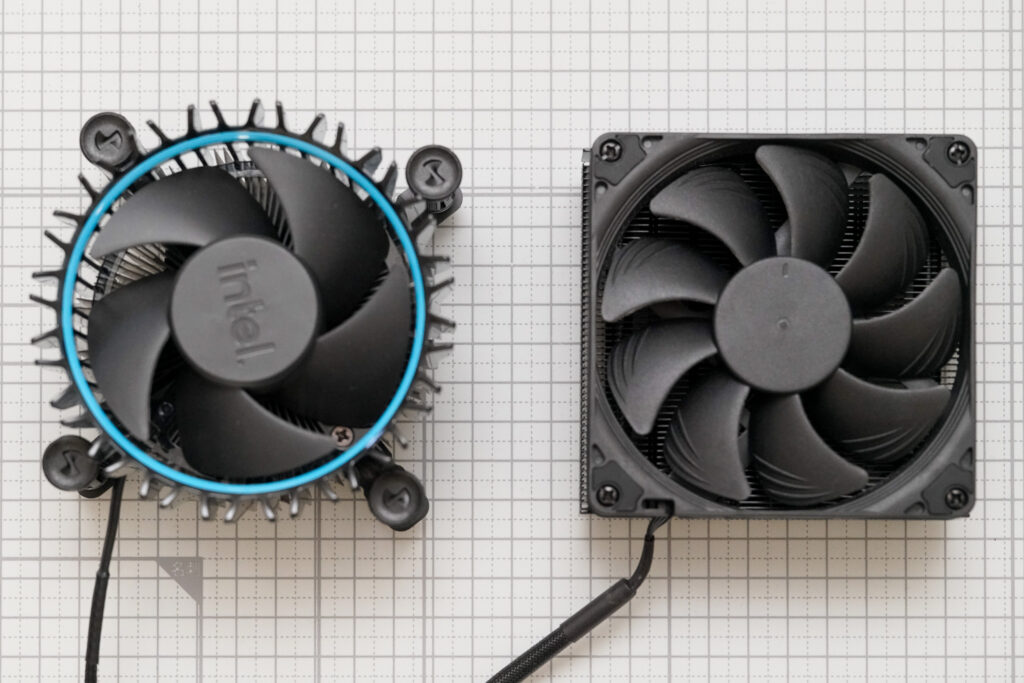 The following graph compares 1. Intel Laminar RM1 and 2. Noctua NH-L9i-17xx.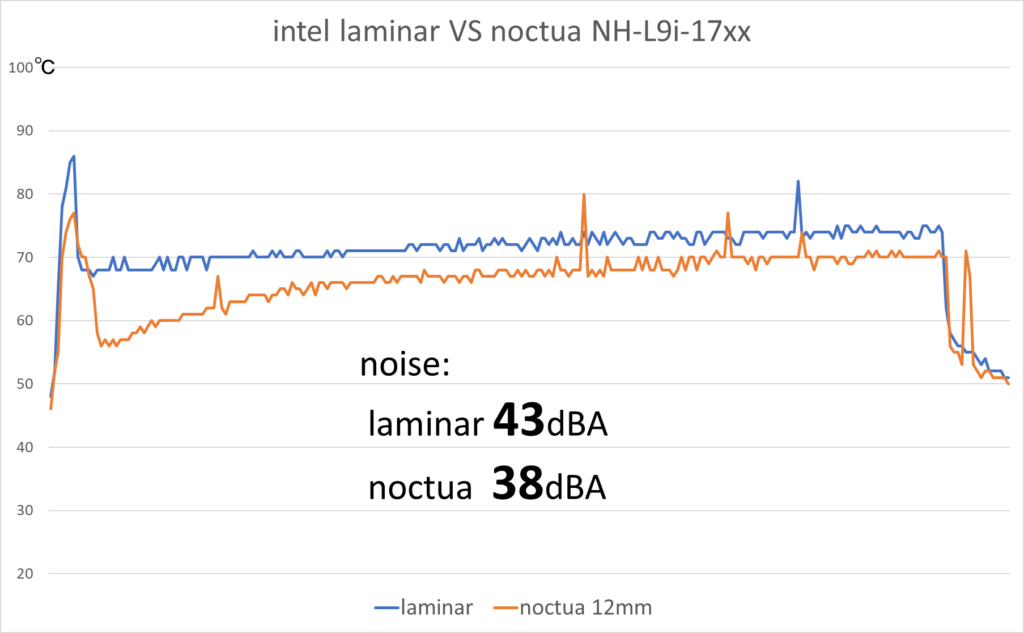 Noctua's fans are thinner, but perhaps coupled with the performance of the studied heatsinks
The result is that it cools on average about 5°C more than the stock fan.
What is even more astonishing is the low noise level.
There is a difference of 5 dBA, quite a difference in physical sensation. While the stock fans are considerably louder.
The noctua fan seems to be working hard, but the sound is not bothersome.
I think the laminar is also affected by the fact that the fan rotation speed changes at a dizzying pace.
Using a genuine Intel cooler is good, but in this case, something with a little better performance is recommended.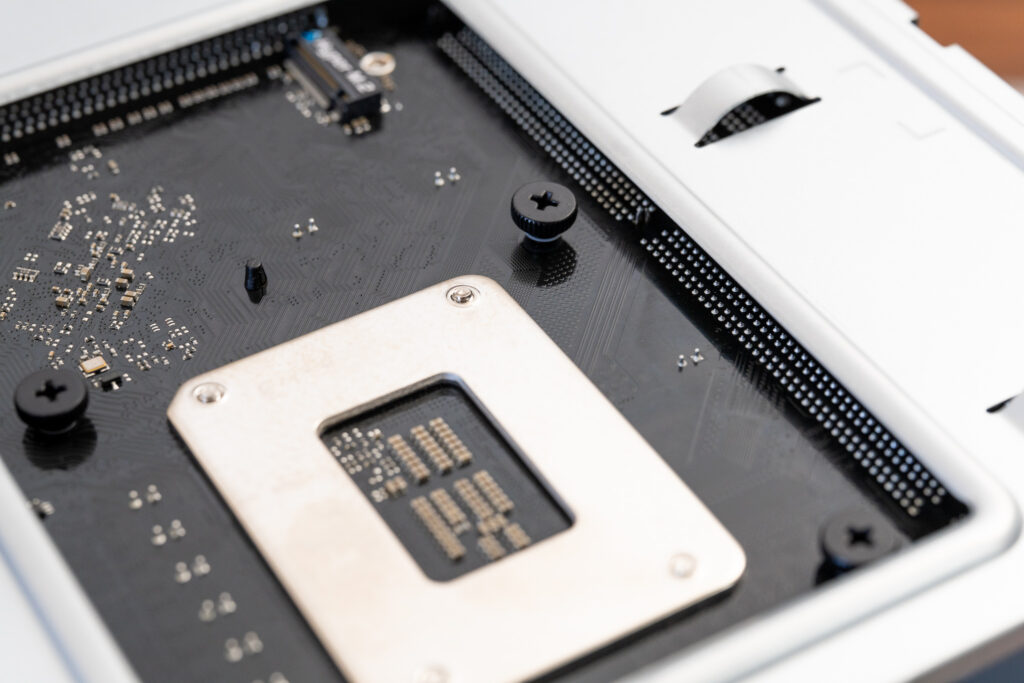 Further improve Noctua NH-L9i-17xx
In fact, the noctua NH-L9i-17xx has a surprise specification: the fans can be replaced.
I exaggerated… but it is not a backstage trick or anything, and long screws for replacement are properly included.
The default fan is the NF-A9x14 HS-PWM, a thin fan with a thickness of 14 mm.
This can be replaced with the NF-A9 PWM. The thickness is 25mm, which is the thickness of a normal, common fan.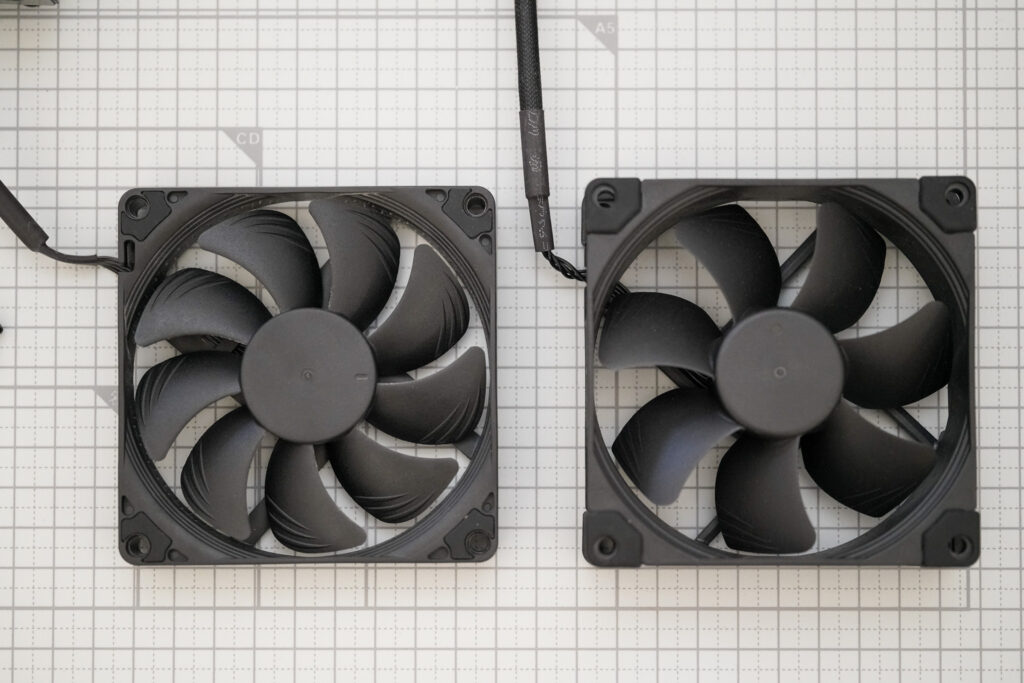 Come on, replacing the fan will dramatically change things….I want it to happen….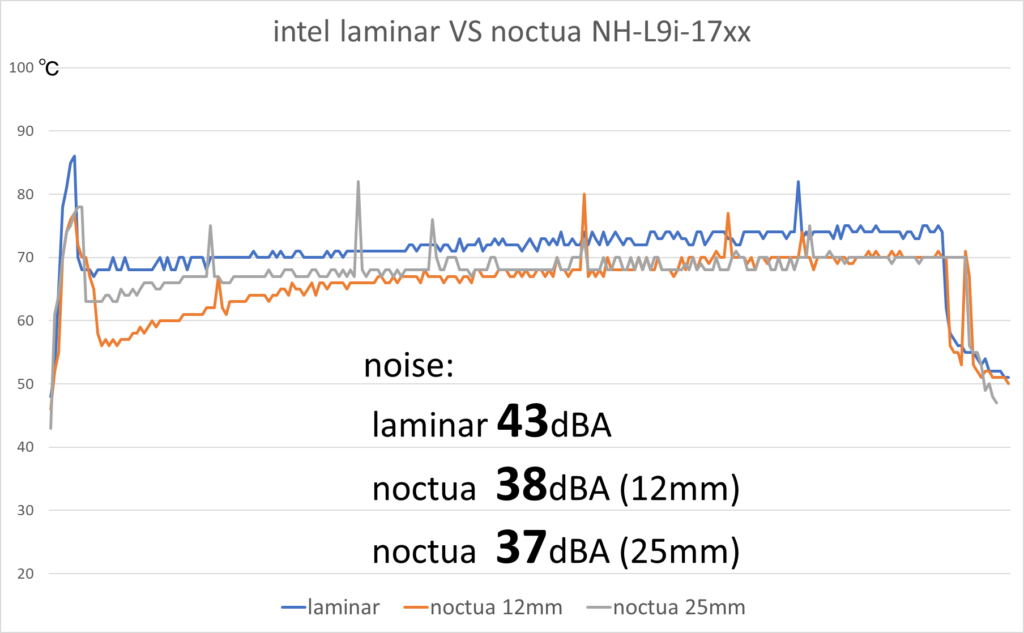 What a subtle result….
As for the 12mm and 25mm thick fans, they do not seem to make much of a difference.
At first glance, the 12mm fan appears to be superior (especially right at the start = the part where the 12700 is running at 125W).
The fan speed was also much higher, so it appears to be cooling better than the 25mm fan.
In my opinion, the heat dissipation performance of the heat sink itself may be the limitation rather than the performance of the fan.
As for quietness, the 25mm fan is numerically quieter than the 12mm fan by 1 dBA, but the 25mm fan is quieter by feel.
It's kind of…roomier than the 12mm fan.
In contrast, the laminar sounds like it has no room to spare.
By the way, if you replace the fan with a 25mm thick fan, it will be this close to the power supply.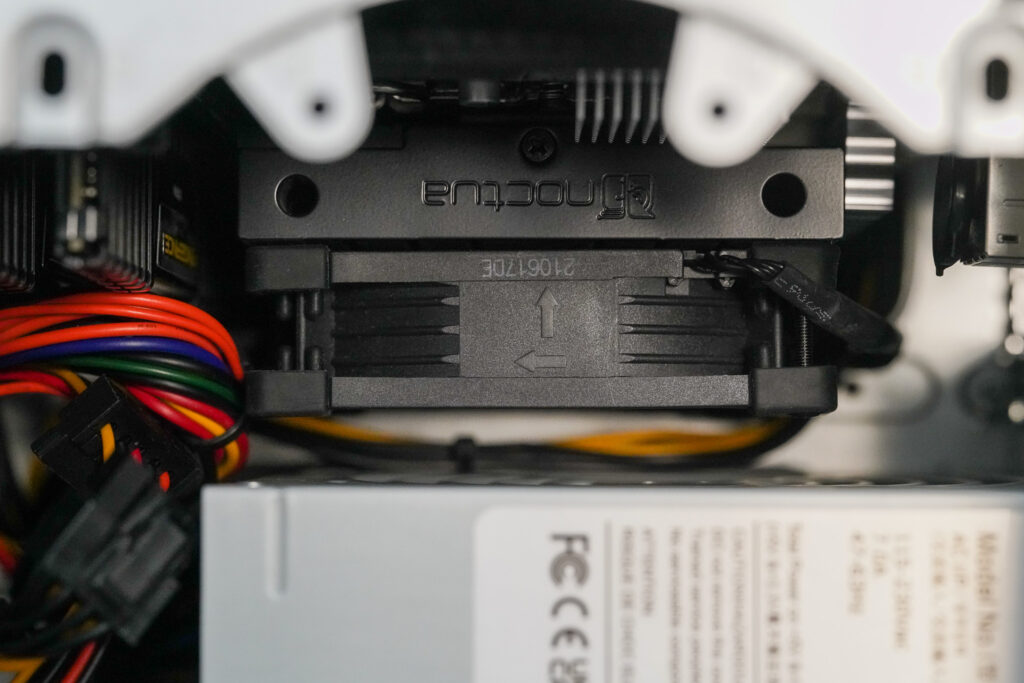 Conclusion
The 12700 class can be used with Desk Meet B660
However, choose a CPU cooler
Stock CPU coolers should be avoided if possible.
Switching to noctua H-L9i-17xx class will give you mental peace of mind, quiet and a few degrees lower temperature.
You may replace it with a 25mm thick fan, but it will not make much difference at 12700.
(Prediction) In the 12400 class, there is more room in the heat sink in terms of thermal capacity, so the 25mm thick fan may be more effective.