This is a review article of the ASUS Prime AP201 Micro ATX case.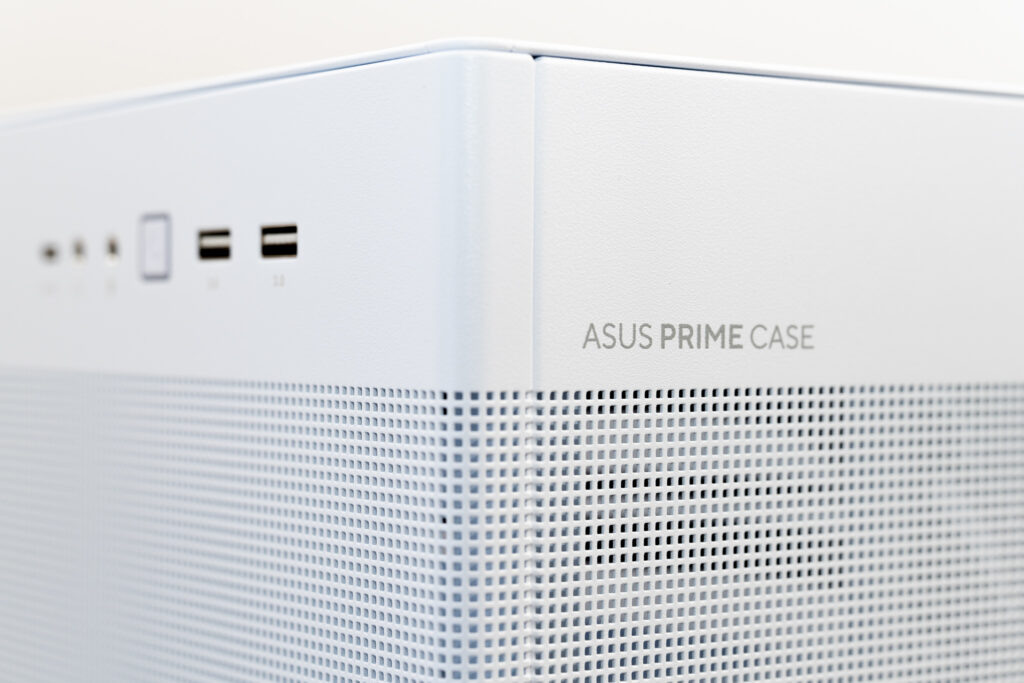 Specs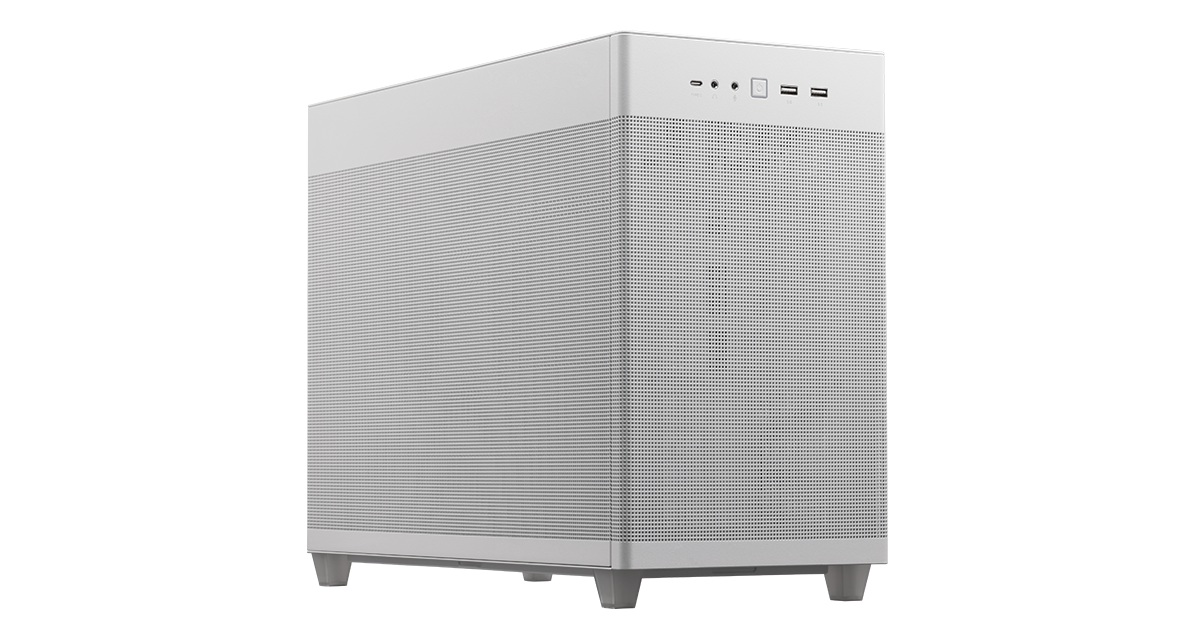 | param | value |
| --- | --- |
| Size | 205(width)×350(height)×460(depth)mm |
| weight | 5.8 kg |
| Supported Motherboards | Micro ATX、Mini ITX |
| volume | 33L |
| drive bay | 2.5inch×1、2.5/3.5inch×3 |
| Water-cooling compatible (radiator size) | OK (360mm) |
| Maximum graphics card size (length) | 338mm |
feature
The US Prime AP201 is a case that can accommodate up to M-ATX sized motherboards.
It has the following features
33 liter size
Can accommodate Micro ATX motherboards
Mesh design
Supports 360mm simple water cooling
Graphics card up to 338mm
Standard ATX PSU (power supply) compatible
Therefore, it is possible to use Core i9 12900K / Ryzen 9 5950X etc. with powerful cooling
This case can be used to build a system with a large graphics card.
It is available in two colors, white and black. I purchased the white one that was released earlier.
appearance
First, check the exterior.
The mesh on the sides is relatively large, and airflow does not seem to be a concern.
Case fan on the rear. Since it is a white case, it is a white fan. Size 120mm
The front consists of USB-C, headphone, microphone jack, power button, and USB 3.0 * 2.
Power supply mounting is at the front; ATX size can be mounted.
but be careful depending on the length of the graphics card.
Three 120mm fans can be mounted on the top, and a 360mm radiator can also be mounted.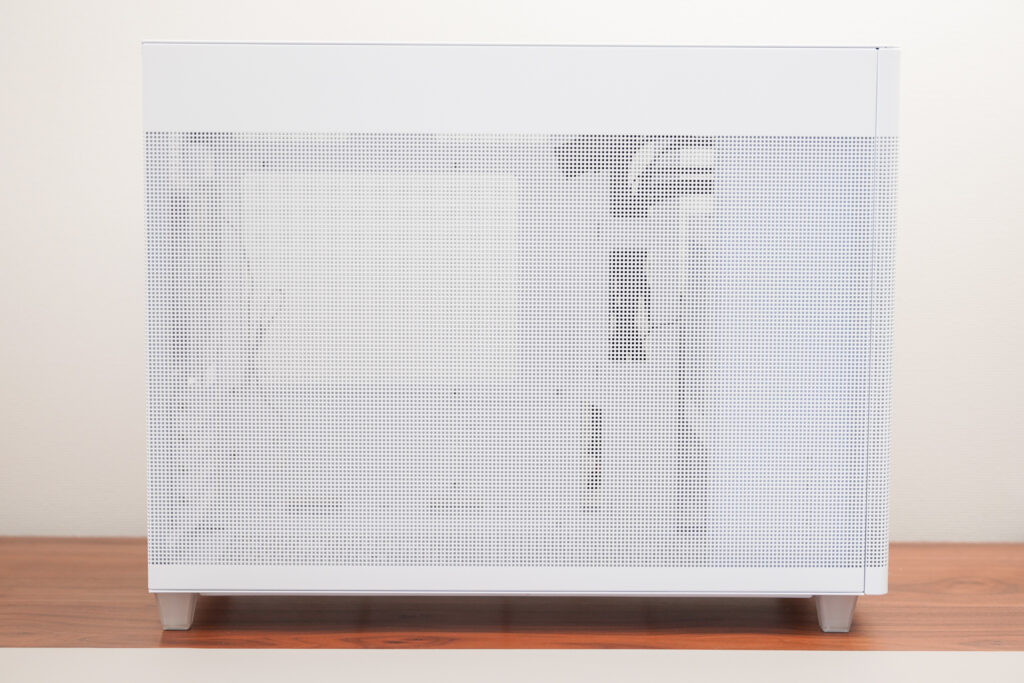 assembly
This time, the following parts will be used to create a full-fledged gaming machine.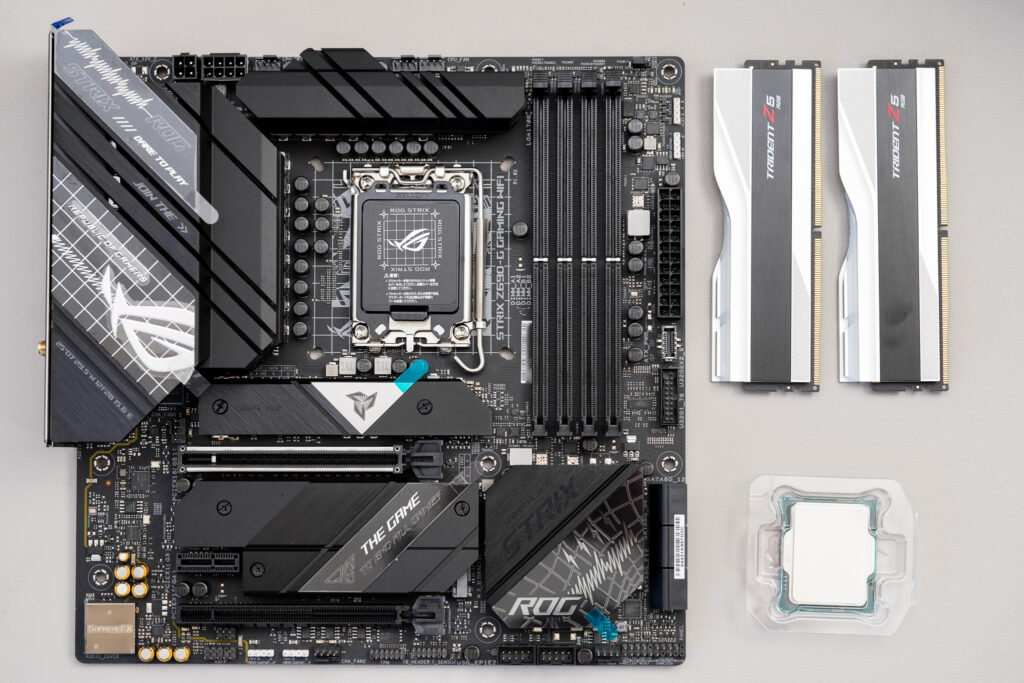 Well…12900K is off this time.
As a side note…when I run MEMTEST, it started throwing up a lot of errors…. At first I thought "Hey, hey, hey, is it the memory?" but when I changed the CPU, the result changed (i.e. became normal), so I judged it to be a CPU failure, and it is being replaced at the distributor. I didn't know this was possible.
If there is an error in memtest86, I usually suspect memory…
Note that we have thrown in Corsair's H150i RGB ELITE because it can be fitted with "360mm water cooling". This is a new type of simple water cooling with a silent fan.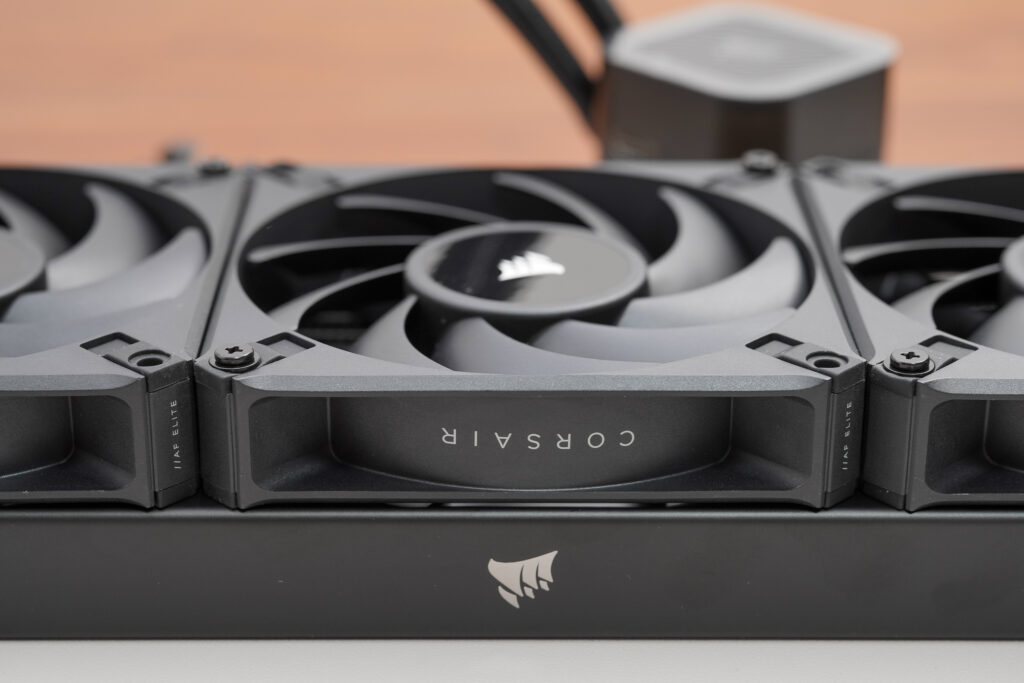 360mm water cooling and large graphics card
This is the most important point I want to convey in this review article.
As you probably already know, small cases have various restrictions.
Feature A and B are incompatible.
Feature C is applicable only when very special conditions are met. 
etc… Often, what you thought you wanted cannot be realized.
The two main advantages of the AP201 are "360mm simple water cooling can be installed" and "graphics cards up to 338mm long can be installed," but can they be compatible?
The key lies in the power supply.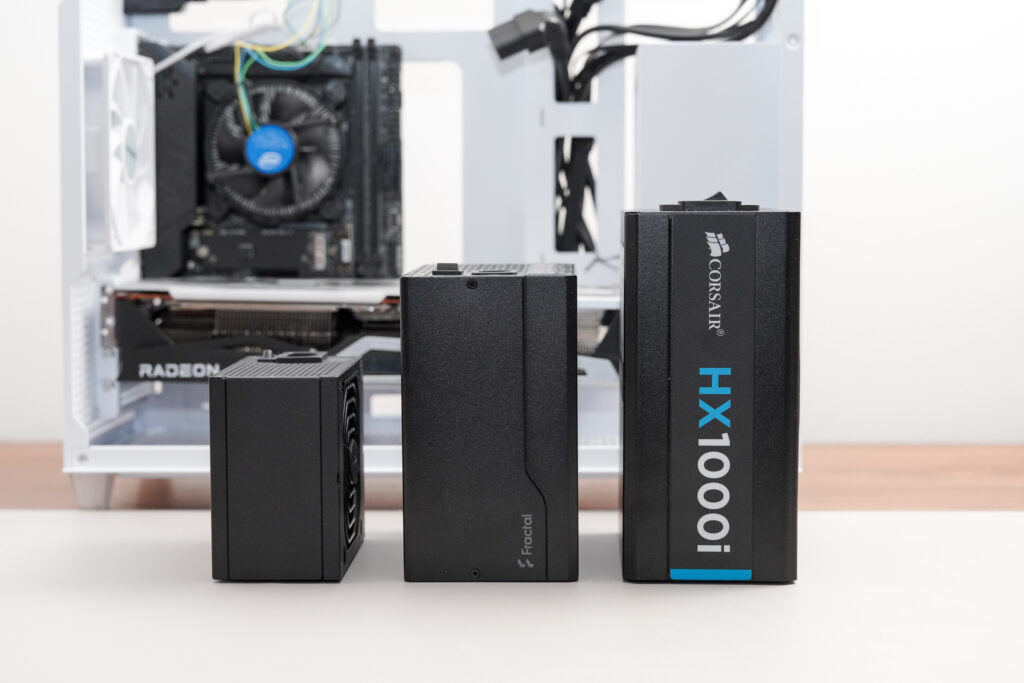 The following is an excerpt from the AP201 manual
You can choose from three power supply locations.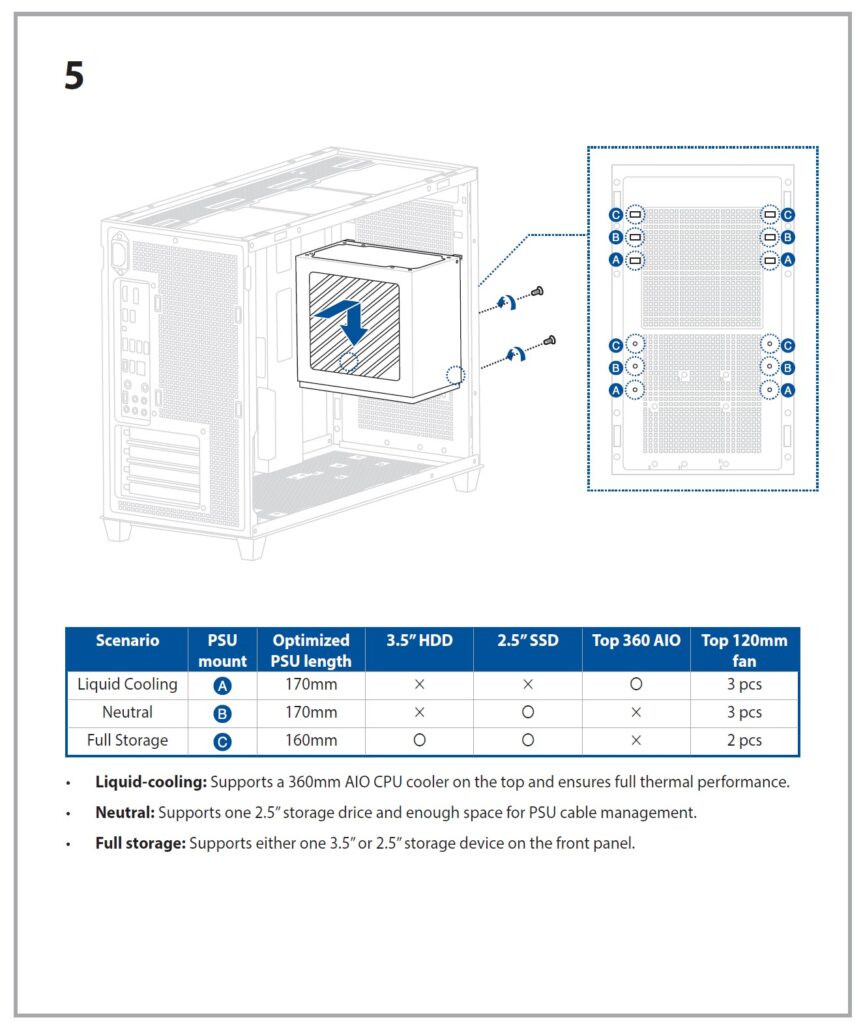 I know the recommended position for mounting the radiator on top of the case is "A."
What happens if this is selected as it is?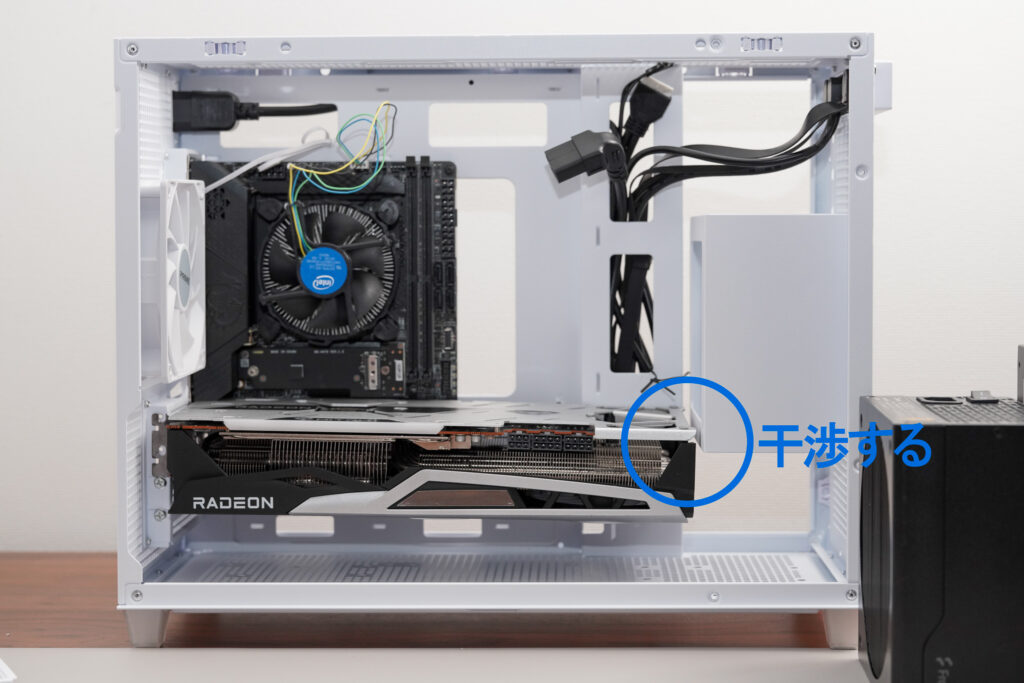 The SAPPHIRE NITRO+ Radeon RX 6900 XT OC (320mm) is full to the brim and any longer card would completely interfere.
As expected, a long graphics card (338mm) and 360mm simple water cooling are incompatible…
If I had followed the manual, I'd have
I would only have the option of a 320mm or so graphics card + water cooling. This is not good.
Long graphics card and water cooling.
The three points are as follows
Change the power supply position to B
Use as small a power supply as possible (SFX in mind)
Place the hose outlet of the 360mm simple water cooling radiator at the back of the case
This will make it look like this. In this picture, we are using Fractal Design's Ion Gold 850W power supply, but if you change to an SFX power supply, it will not protrude downward, so you should be able to load a "just barely", including cable clearance, and even a longer grab board.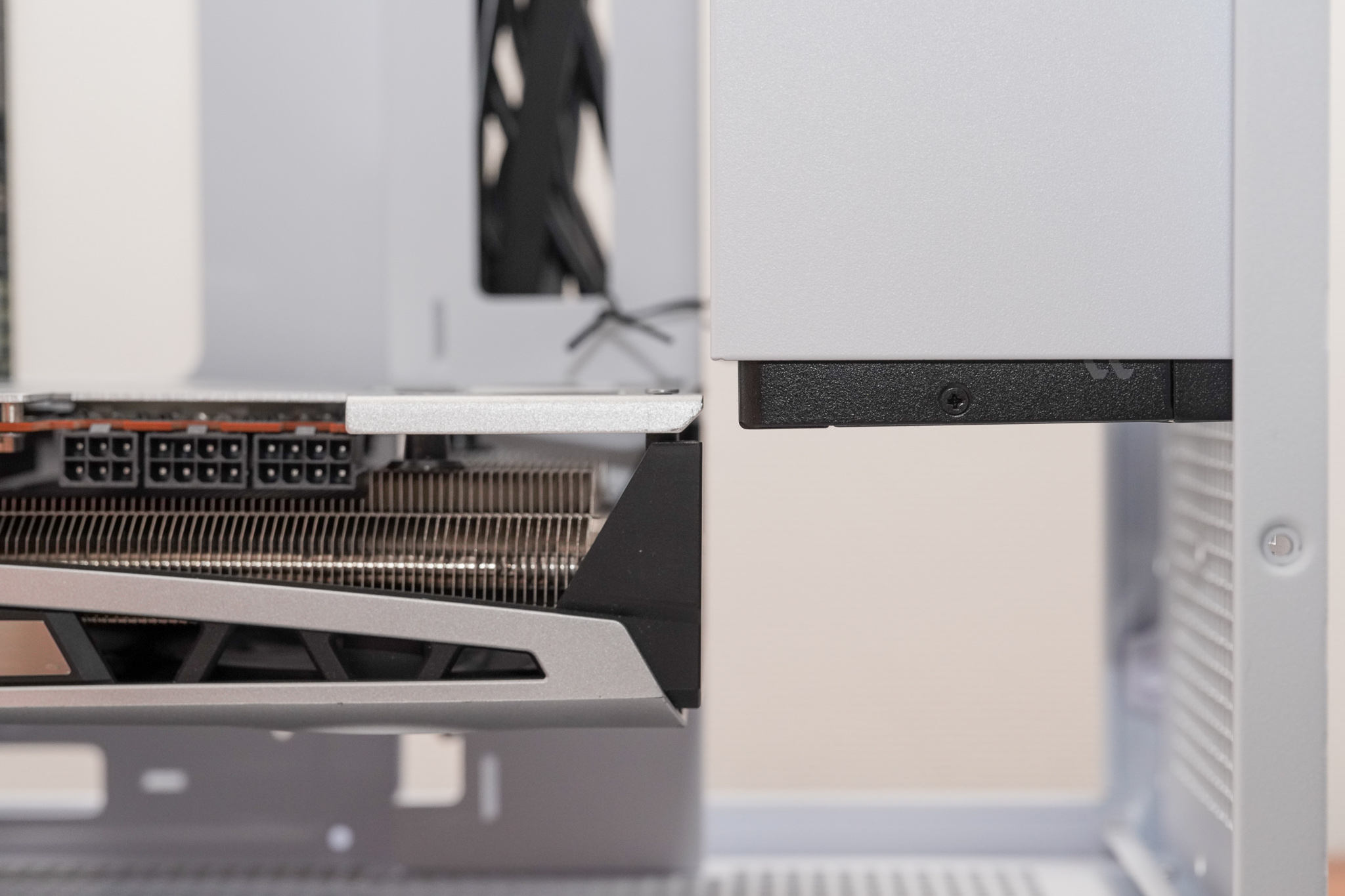 Position B is just barely clear of the radiator as far as the top is concerned.
Therefore, the hose must be on the rear side.
Position C is not possible due to the thickness of the radiator + fan.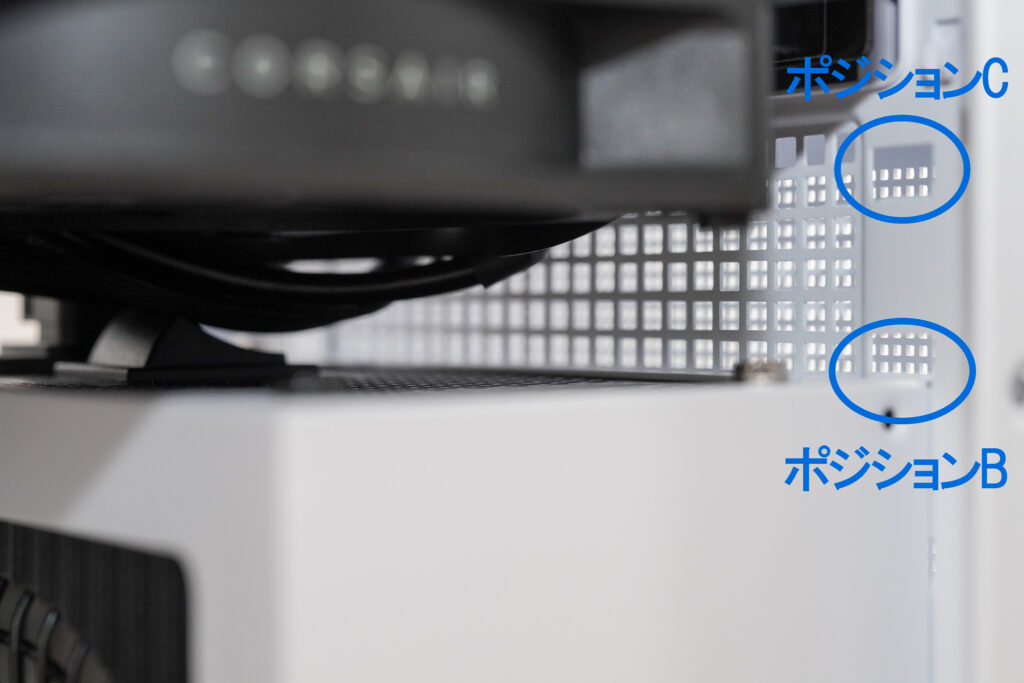 assembly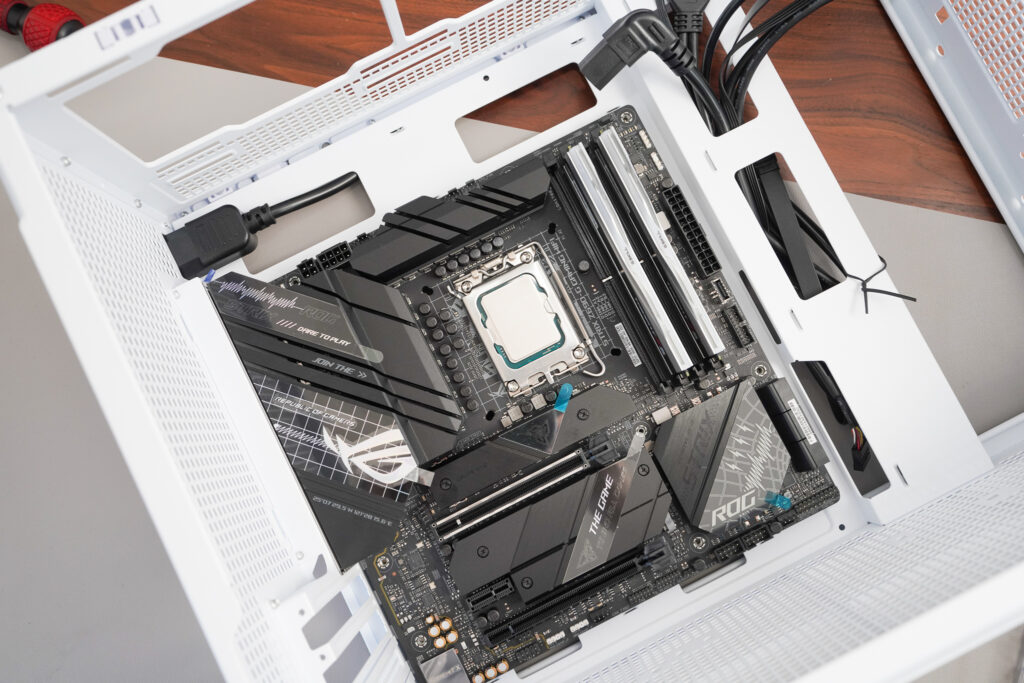 As you may have vaguely noticed when you look at the case
The back wiring is pretty tight (almost no clearance between the back and the panel).
It looks like you will have to force them together in the area where the cable ties are attached.
Or you can make good use of the space under the power supply.
It comes with just a white blindfolded version.
So…here's how it's done.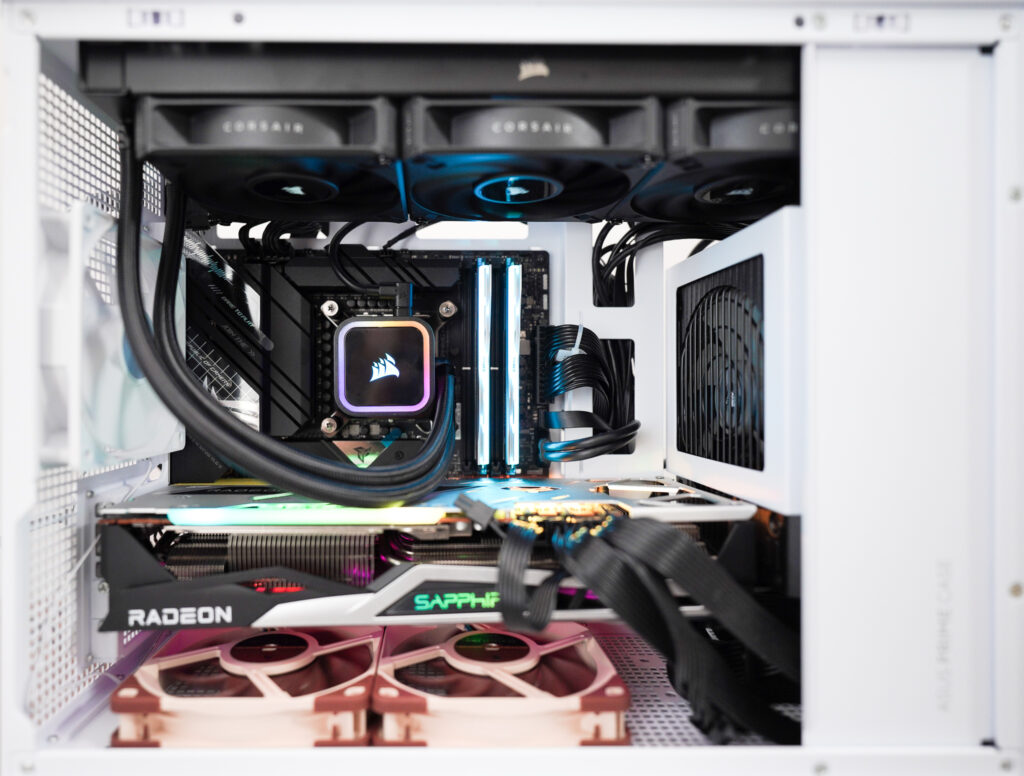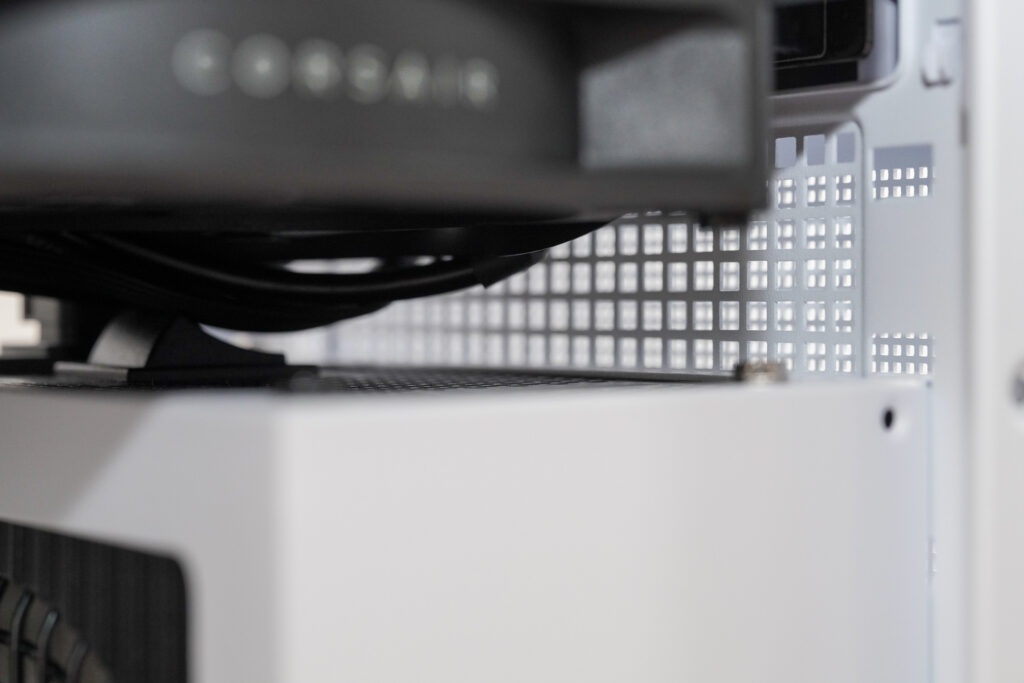 With a volume of 33L, it does not seem likely that heat will build up inside.
It is recommended that a fan be placed under the graphics card as intake to improve airflow from the bottom to the top.
Also, the mesh holes are relatively large, so the inside is quite transparent.
Temperature
A gaming PC equipped with a 12700K and 360mm water cooling.
First, CineBench R23 (Multi) is running.
The water cooling pump is at its fastest speed and the fan is set to "stable" by iCUE.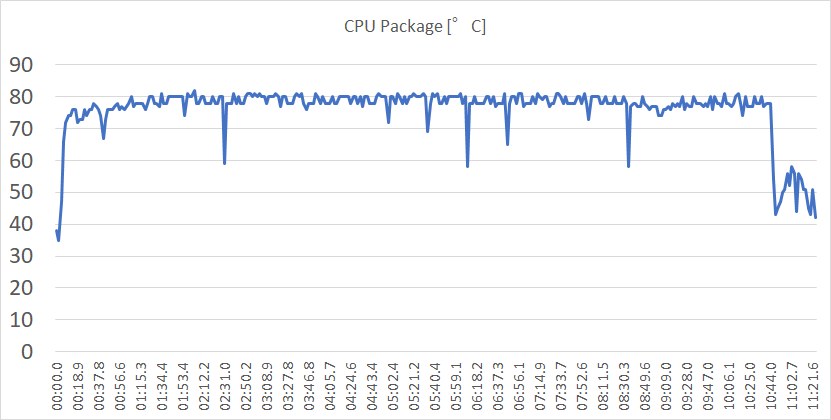 The fan of this water-cooling system is quite quiet, and I personally think that it would be fine without changing to Noctua. It is quite excellent because it is able to keep the temperature at about 80℃ max.
Next, with the CPU overclocked + RX6900XT in "Rage" mode
The next is the result of running the FF14 benchmark with the CPU overclocked + RX6900XT in "Rage" mode.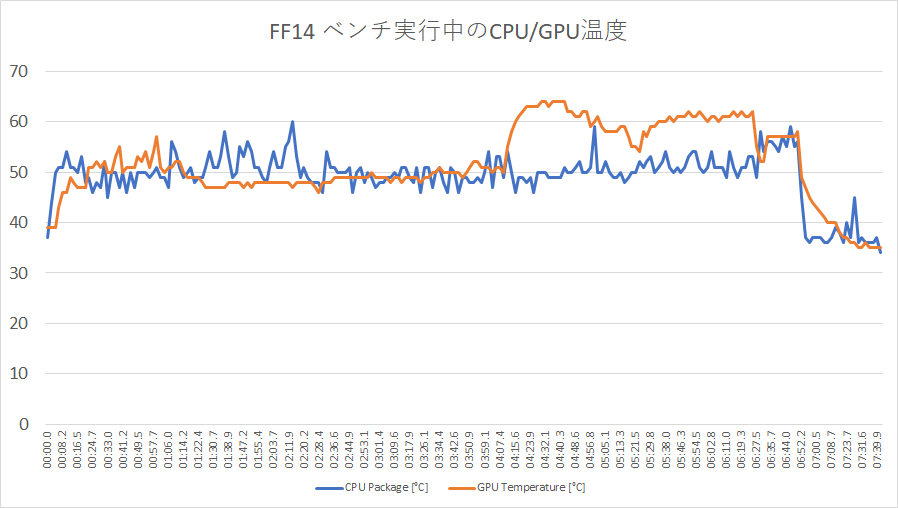 Thanks to the fan at the bottom of the case, the CPU temperature is kept below 60°C and the GPU temperature below 65°C.
Isn't it amazing that the 6900XT is under 65°C in rage mode?
We previously reviewed the Lian Li A4 H2O, and there is a difference of less than 10°C.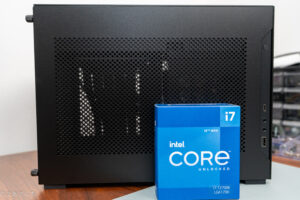 (Reference) Temperature when using 240mm water cooling in Lian Li A4-H2O
    (12700K + 6900XT under the same conditions)

If you assume the use of 240mm water cooling in this case, the temperature will be lower than the following values due to the difference in case capacity (difference in airflow).
 The temperature will be lower than the following values due to the difference in case capacity (difference in airflow).
It is quite a "cool" case.
So that was my review of the ASUS M-ATX case AP201.
conclusion
Good points
M-ATX motherboard can be used.
Can be used for both "360mm water cooling" and
"large graphics card installation" utilizing the 33L volume.
ATX power supply can be used.
Easy to cool without heat buildup
A little more
Difficult to wire in the back
Need to be creative when using 360mm simple water cooling and a large graphics card
So, I think this case is quite good for the price in the low 10000 yen range. I think it is a good case for a price in the low 10000 yen range.
(End)