preface
I review the A4-H2O, a collaboration product between LIAN LI and DAN Cases.
Maybe it's because I have a small house, maybe it's because I like small things, or maybe it's because I'm an innocent… Whatever the reason, I love Mini-ITX cases.
I think to myself, "What kind of specs should I make it stronger than that? Oh, it's so cool.
That's why I bought Lian Li's A4-H2O.
By the way, there are three cases that I haven't assembled yet…
appearance
It comes in a box like this. It is just an ordinary cardboard box. Compared to the i7 12700K box, you can feel how small the case inside is.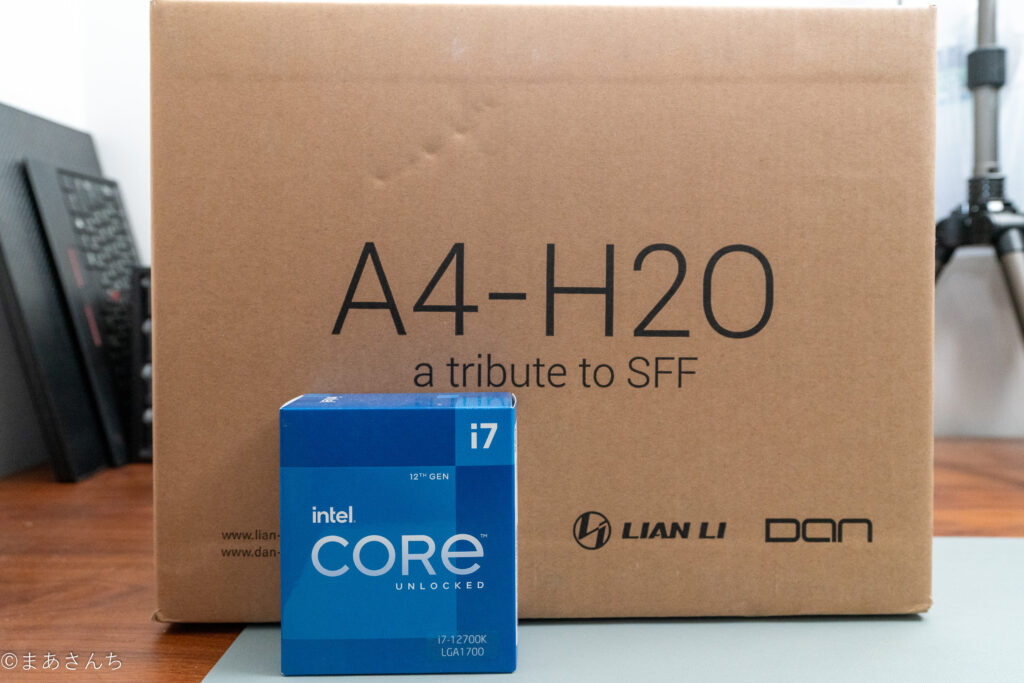 When you open the case, you will find something like this. The screws are inside the case, but I forgot to take a picture of them.
I bought the "PCIe 4.0" version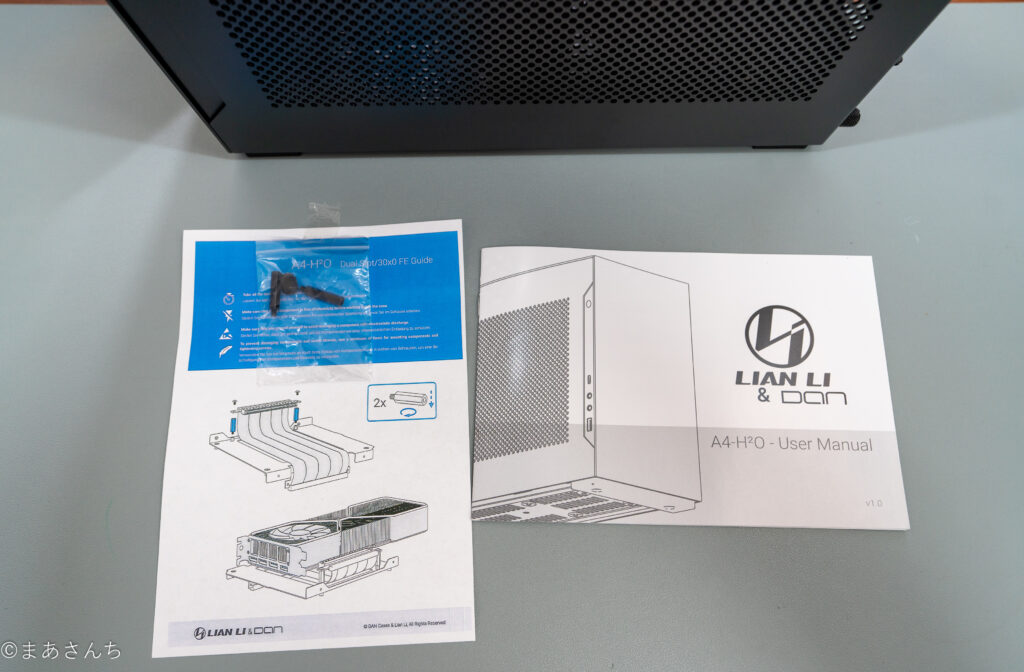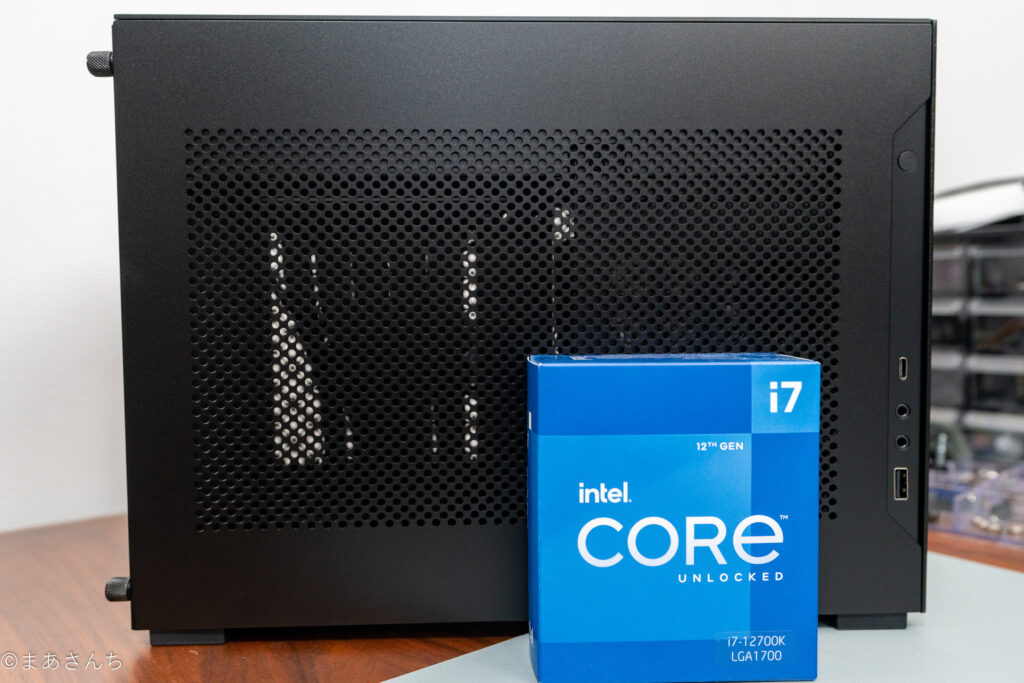 The input/output terminals on the front and the connector to the motherboard look like this. The audio terminals are used less frequently these days. I use Bluetooth headphones now.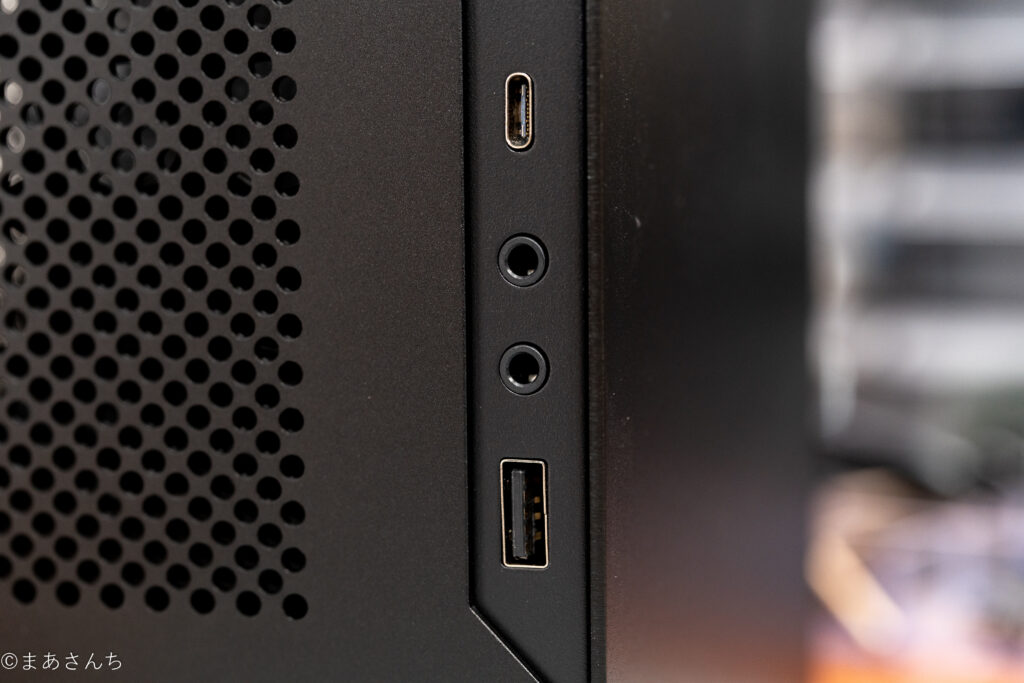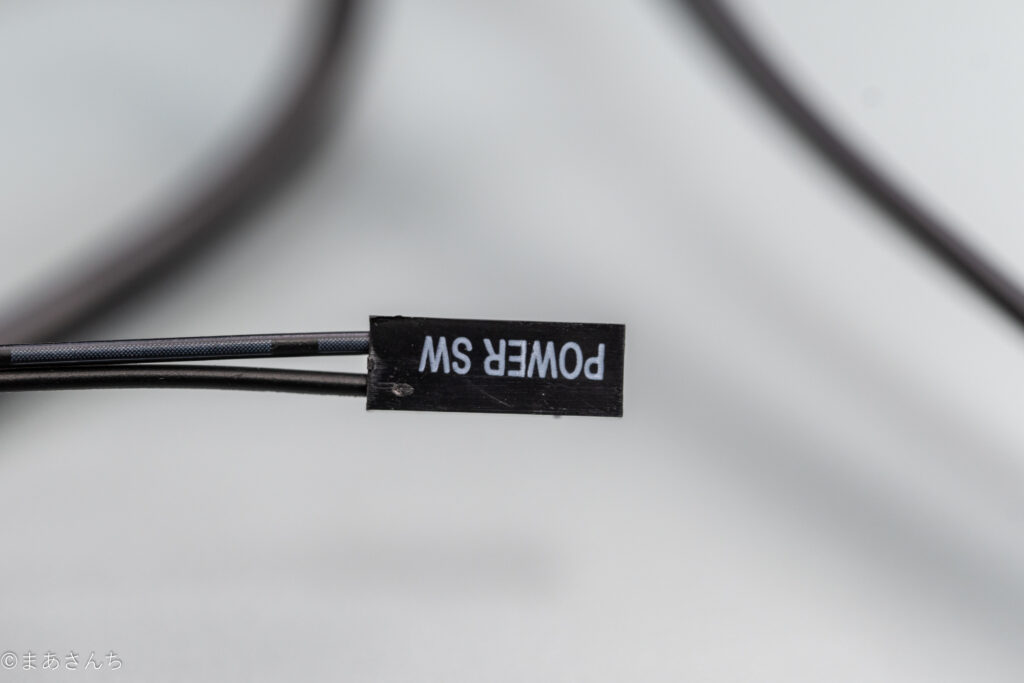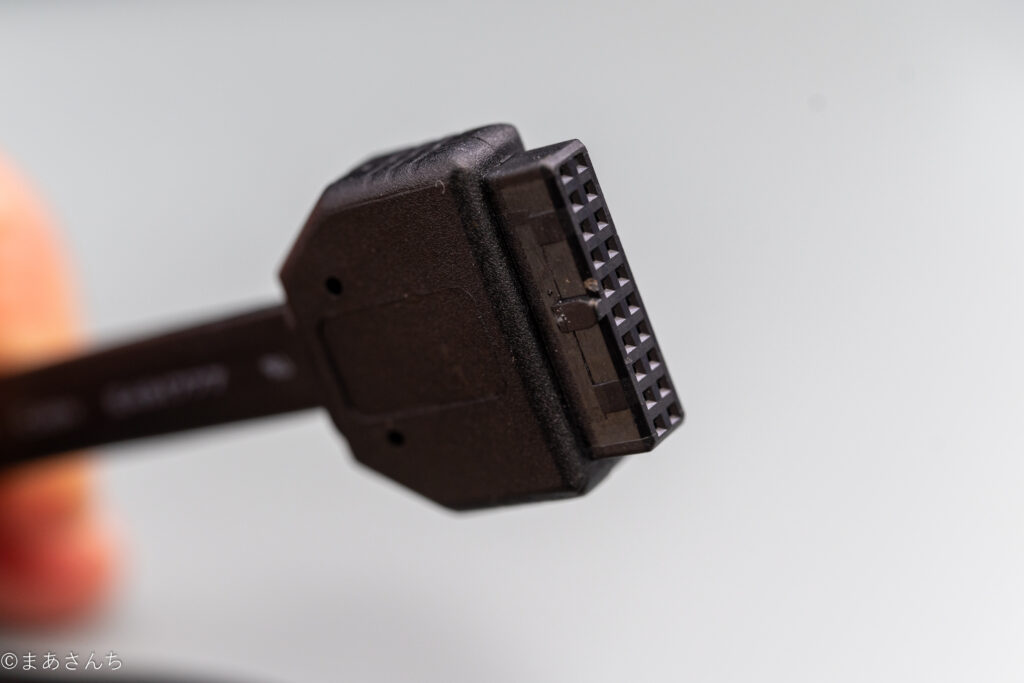 The features of the DAN Cases case are… (quoted below from the website of DIRAC, our distributor in Japan)
Collaboration with DAN Cases
Compact size Mini-ITX with a capacity of only 11 liters
Sandwich layout
Improved hardware compatibility, including triple-slot GPU and 240mm water-cooled AIO support
So, I think the most attractive point is that you can get a product conceived by a high-end case manufacturer with "moderate quality" and "relatively low price" due to the effect of mass production. By the way, one of my favorite points is this.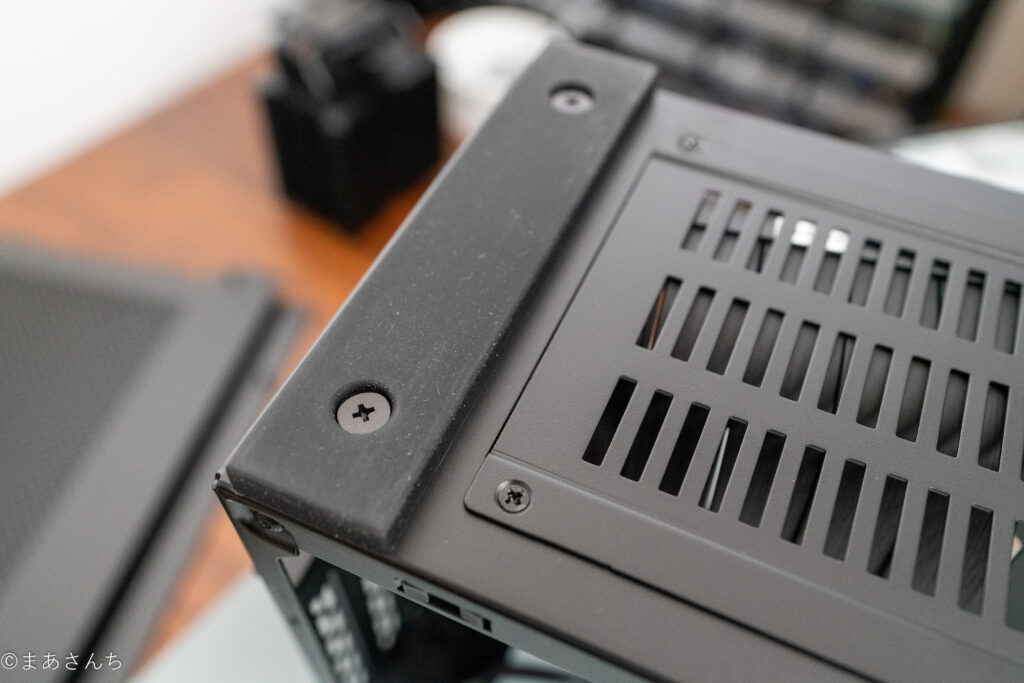 It is large enough that you don't have to worry about the rubber feet "slipping off" while moving.

assembly
ASUS ROG STRIX Z690-I GAMING WIFI
G.SKILL TRIDENT Z5 RGB 6000MHz (CL36)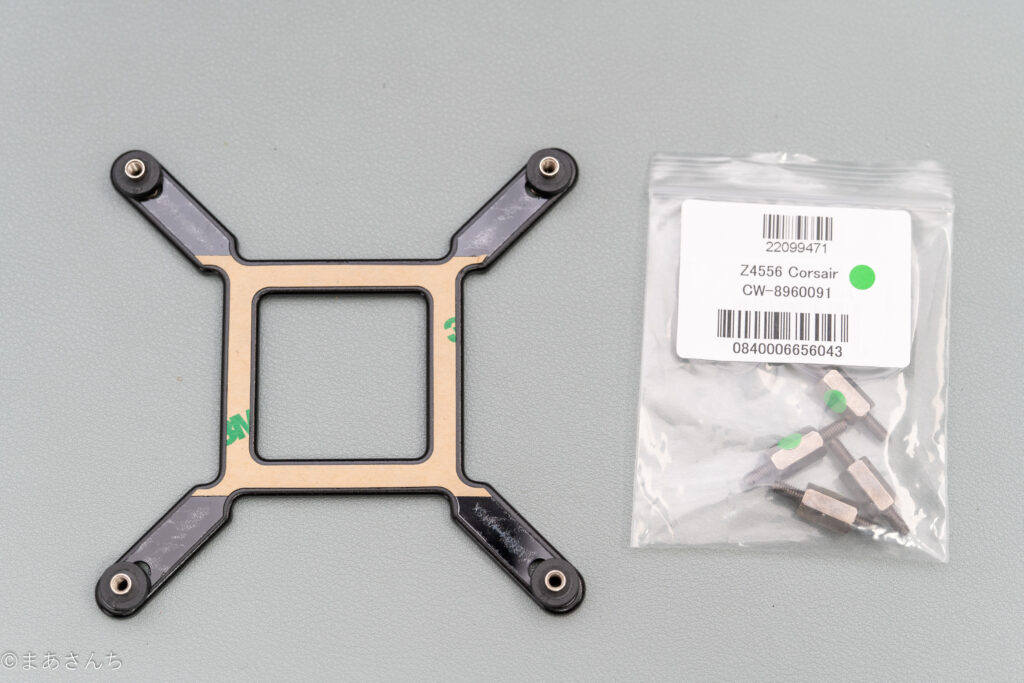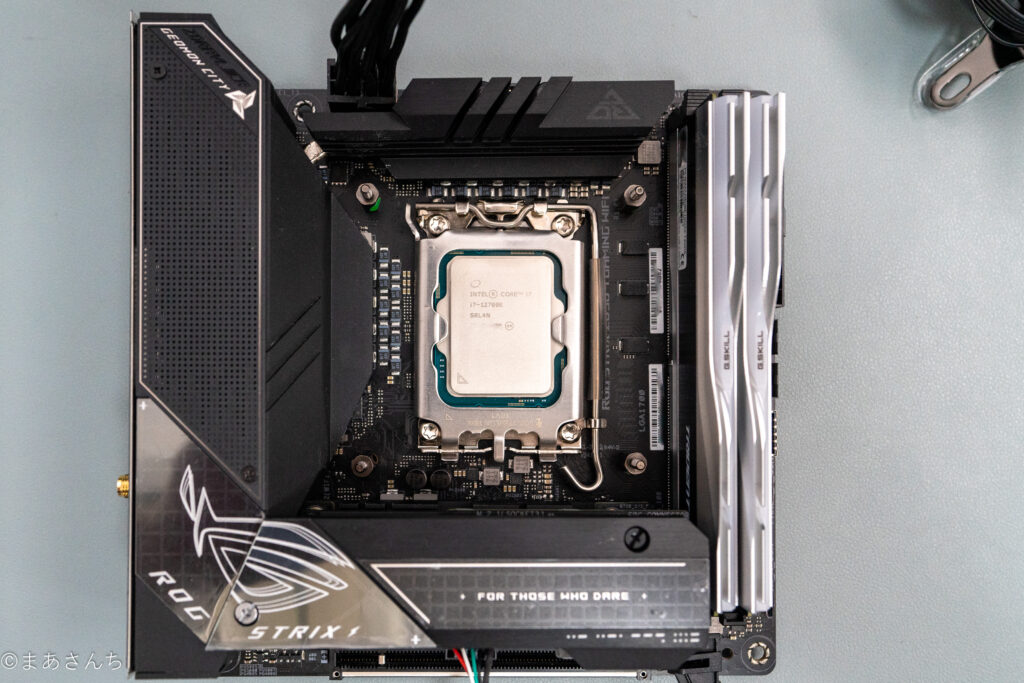 Next, install a fan on the radiator; instead of the fan that comes with the AIO water cooling kit, install a Noctua.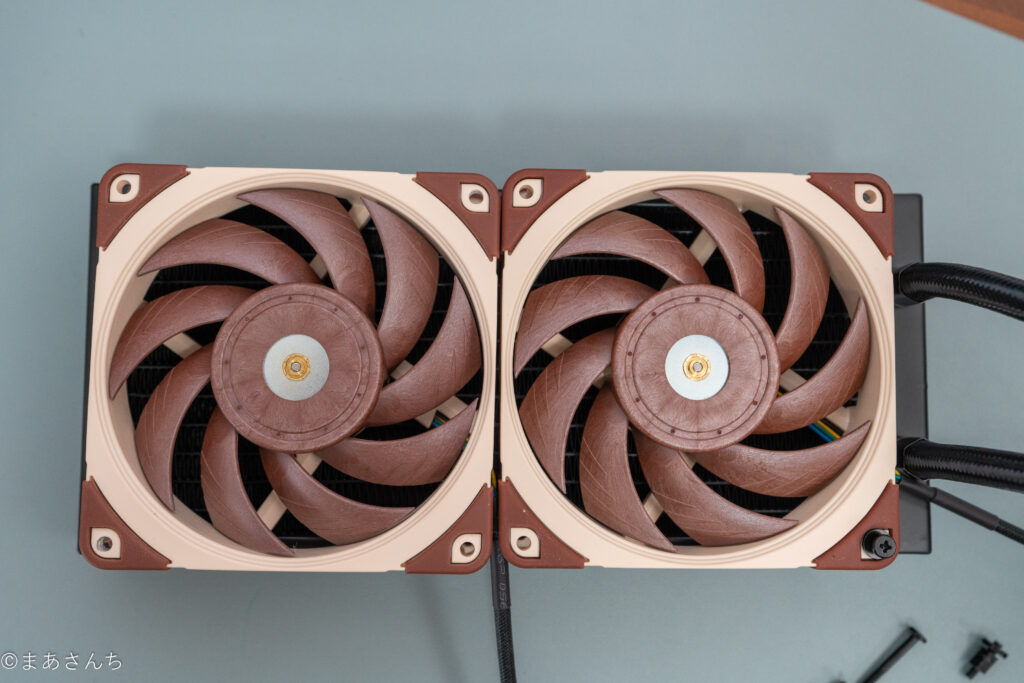 Difficult to wire
Cable routing is quite difficult. (for water cooling). Considering the location and orientation of the power supply, it's like "this is the only way to do it, but it's kind of a bummer." H100i requires USB2.0 + SATA type power connection, which is a bit difficult… but I managed it.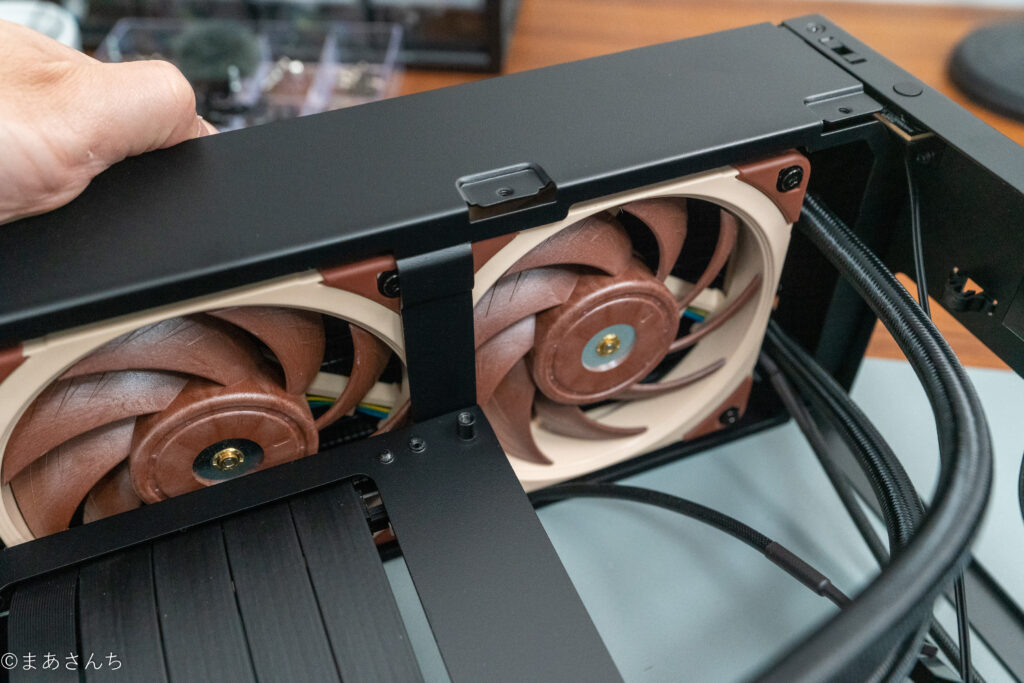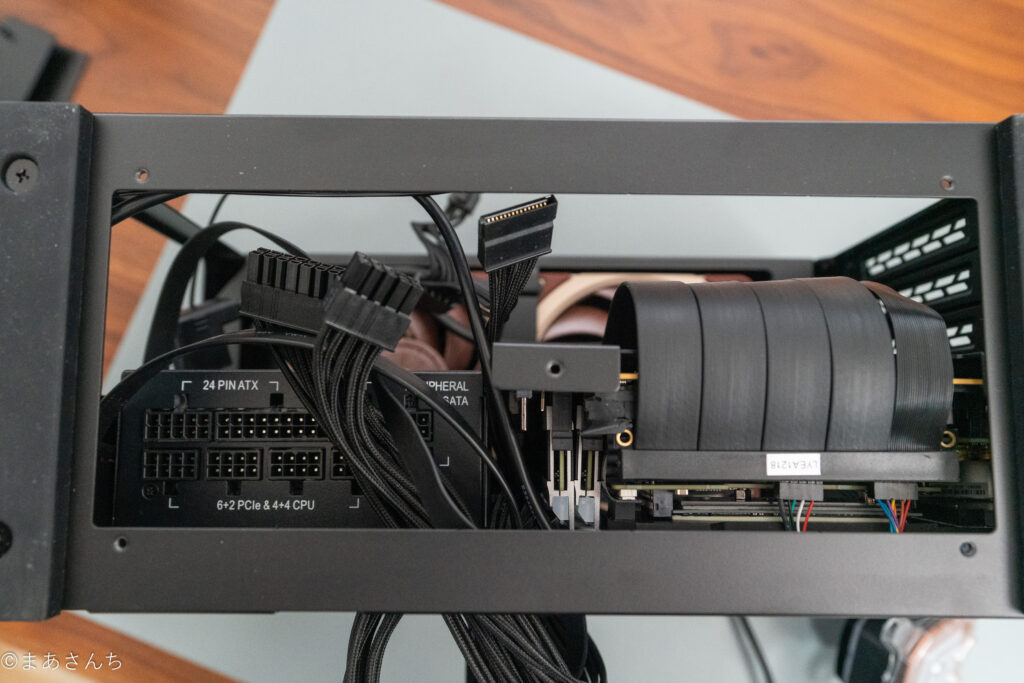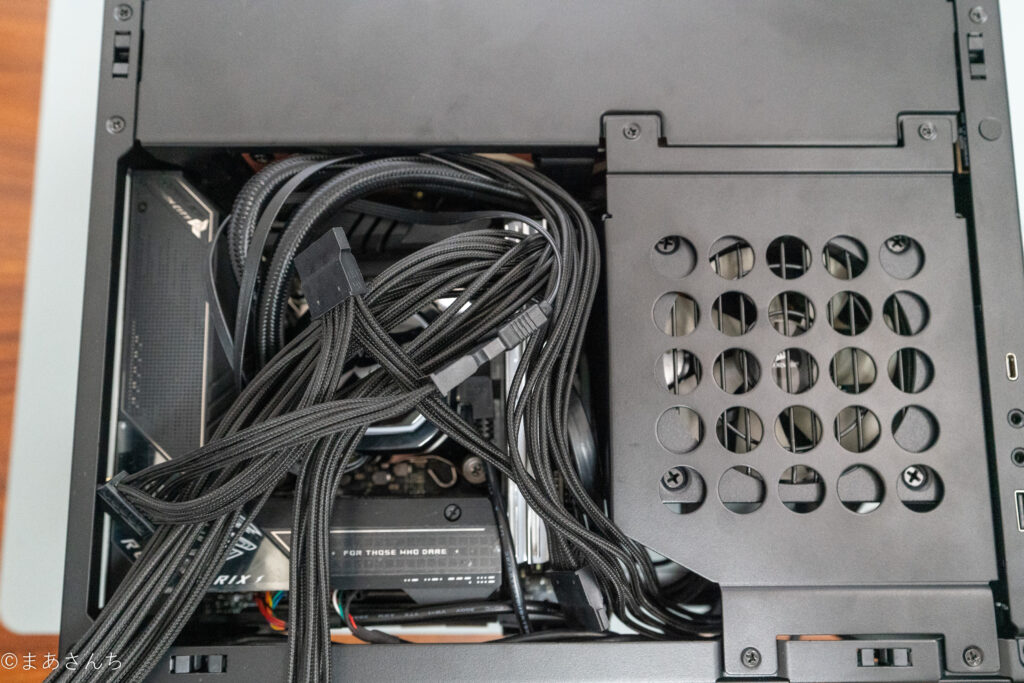 The power supply has a downward growing connector, so the cable from the motherboard has to be brought to the bottom, but no matter how you look at it, you have to use the gap right next to the motherboard (and as you know, there's a USB 3.0 connector or something under the power cable. And yet I have to push it in from the top).
The water cooling hose has to go through the gap above the power supply, but there is not much room to adjust the "excess/slack" of the hose, so you have to adjust it by the orientation of the head (that's why the Corsair logo is backwards)
USB and power supply for water cooling is not cool… but it goes to the power supply via the top of the M.2 SSD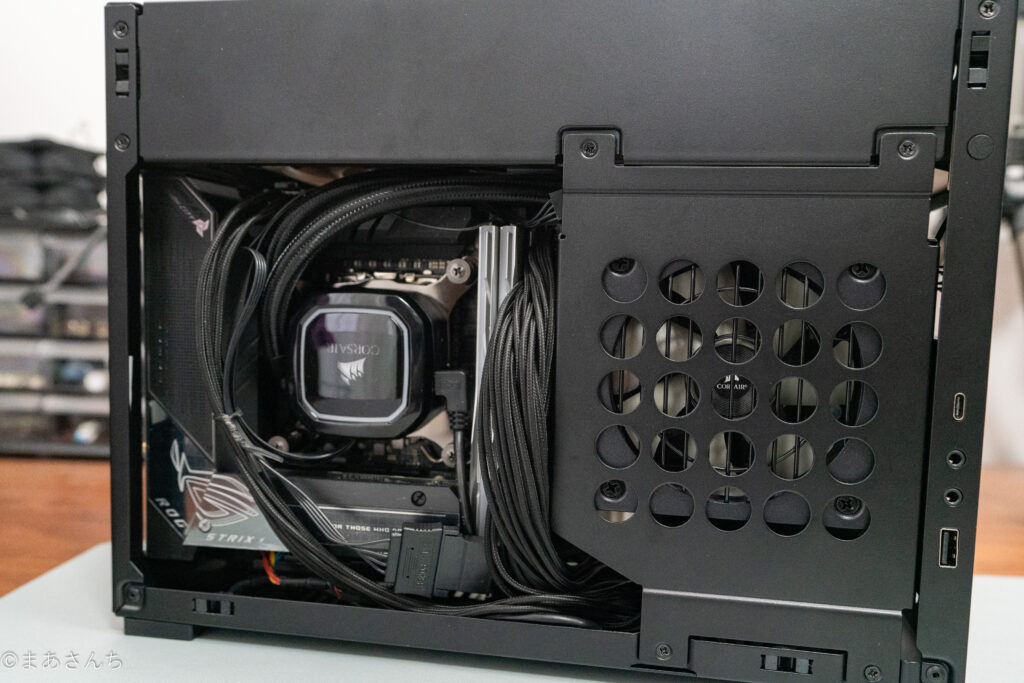 GPU space is amazing
You have to plug the grabber upside down, in this case! Upside down! Upside down! Is the airflow okay?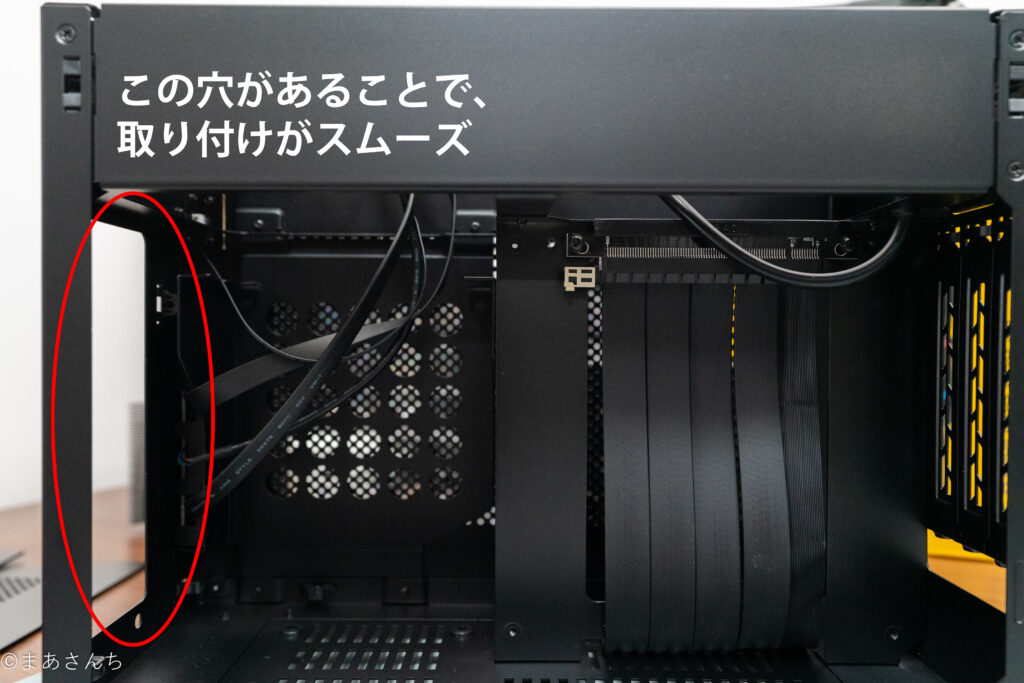 As advertised, it seems to be able to accommodate even a fairly large graphics board.
The front panel of the case can be removed, and a hole is provided at the right position to allow installation from the side. This is a well thought-out point. Excellent!
How many times have I struggled with this, how many times have I damaged my grabbers, how many times have I forced myself to disassemble the case?
I put my EVGA RTX 3090 (XC3, not FTW3, which is a thinner model) in the case, and it fits perfectly.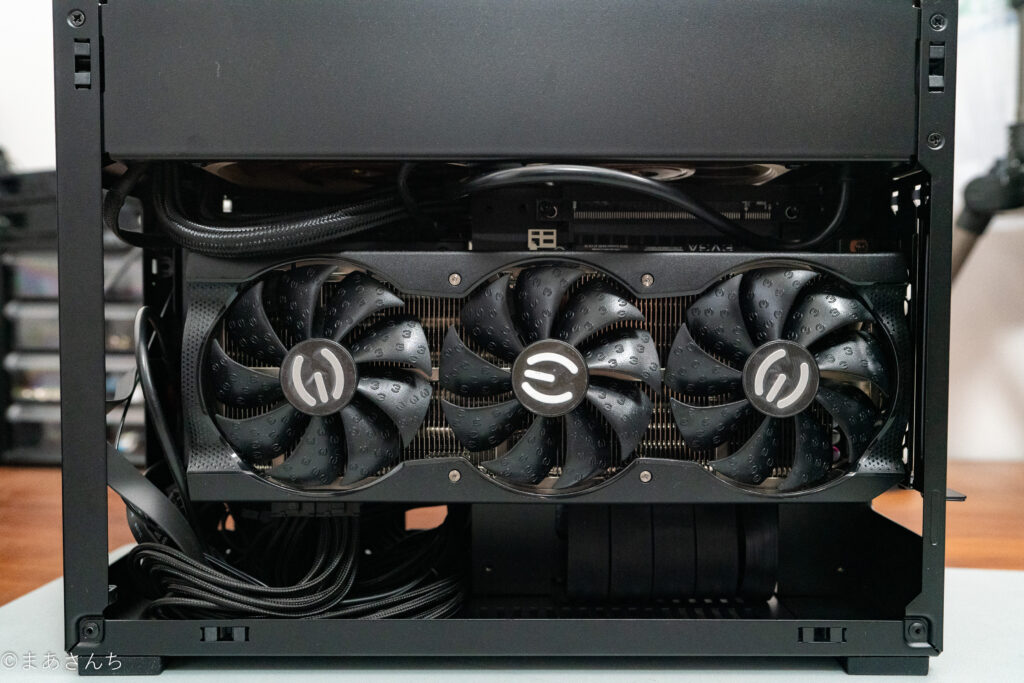 As a side note, this 3090 is a 2.2 slot model without dual BIOS and is probably the less powerful of the 3090s. Benchmarking shows that it is a little weaker than other 3090s. So this time, I decided to go with a more powerful (?) and smaller case. I decided to make the best use of the small size of this case and the wide space in the case, and as a result, the following is the result.
Frankly speaking, it's amazing. Can this fit in here?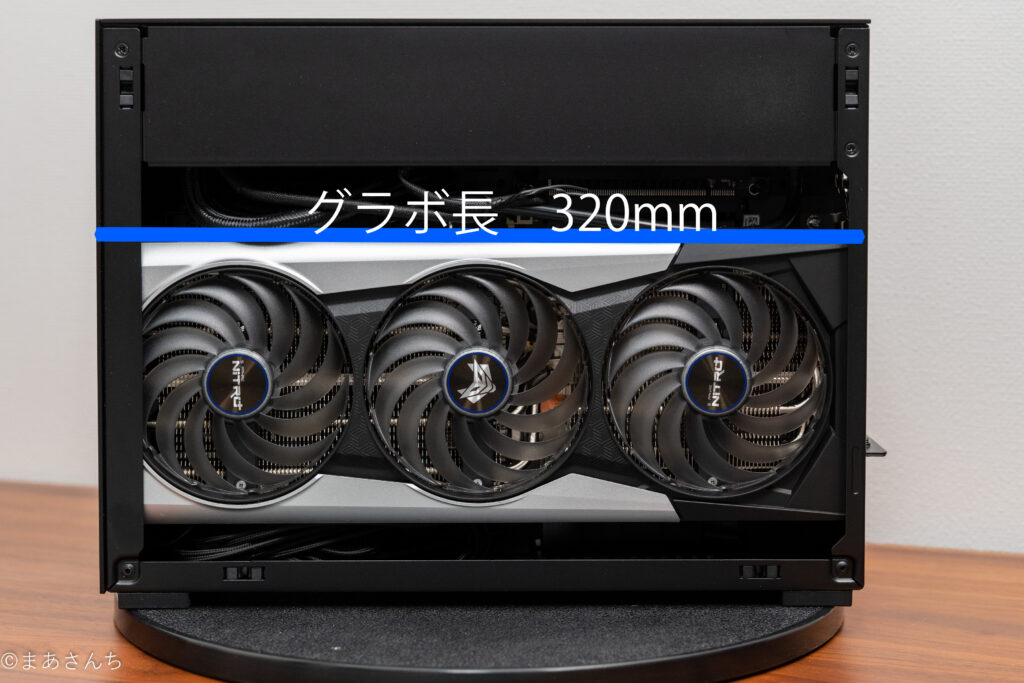 Sapphire's NITRO+ AMD Radeon™ RX 6900 XT SE, now red instead of green (lol), but it's quieter, better at heat treatment, and above all, faster!
completion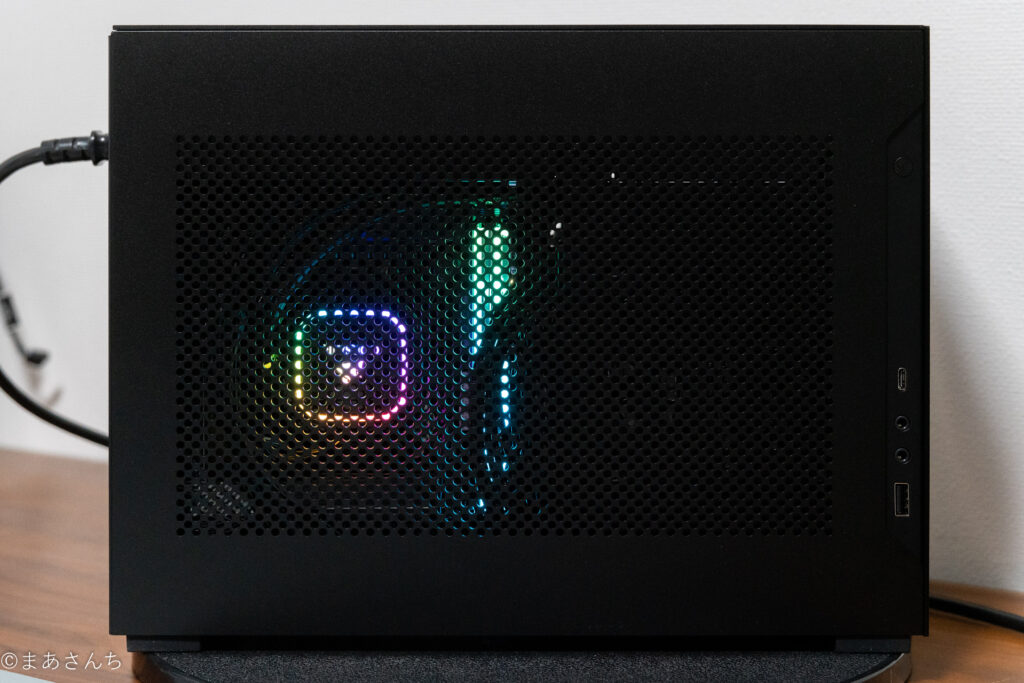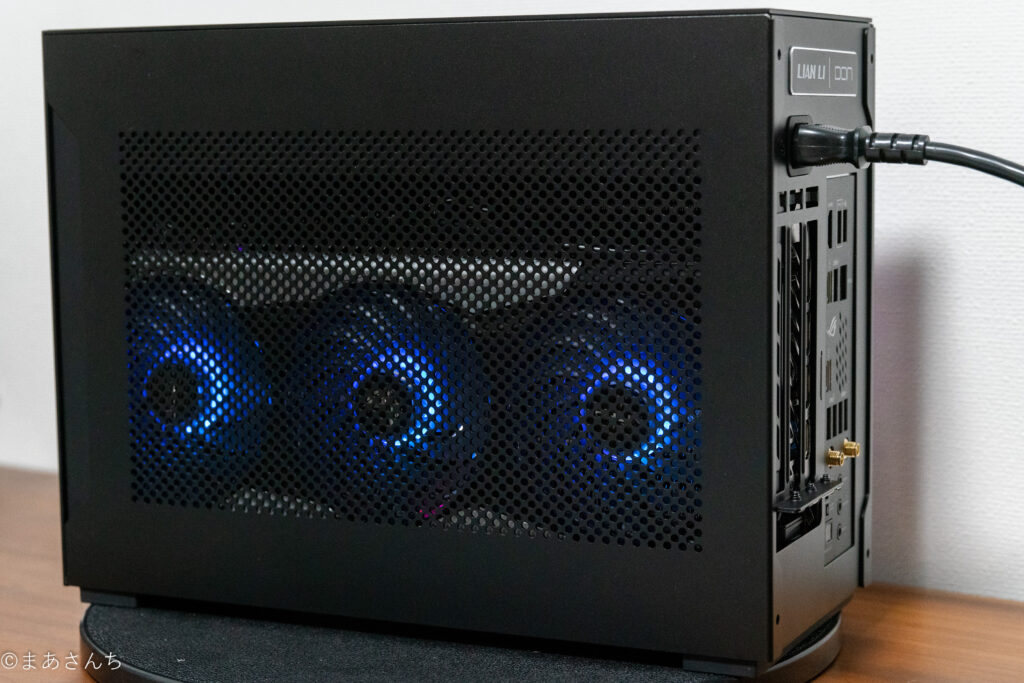 By the way, would you like to see it side by side with ghost S1 mk3? I'd like to see it.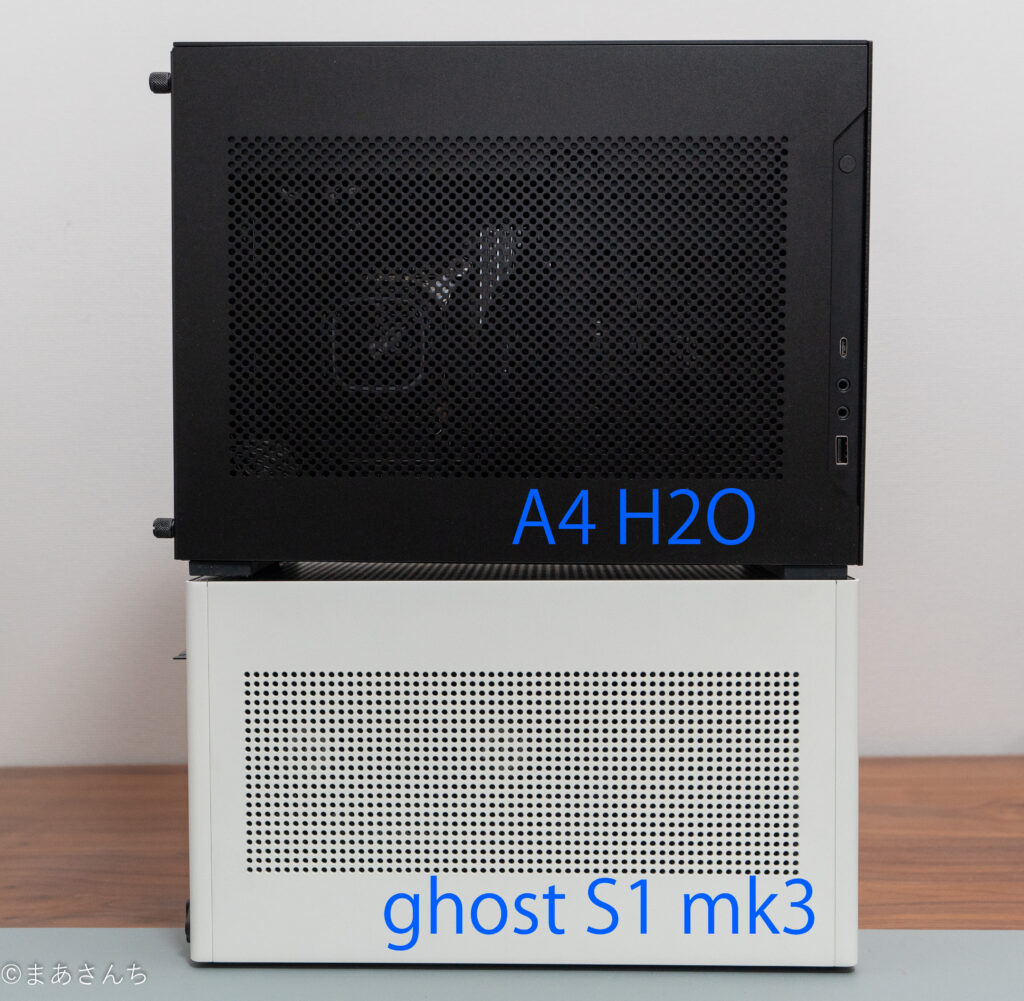 benchmark
intel core i7 12700K
DDR5 6000MHz 32GB (16*2)
ASUS ROG STRIX Z690-I GAMING WIFI
Sapphire RADEON RX 6900 XT Nitro+ Special Edition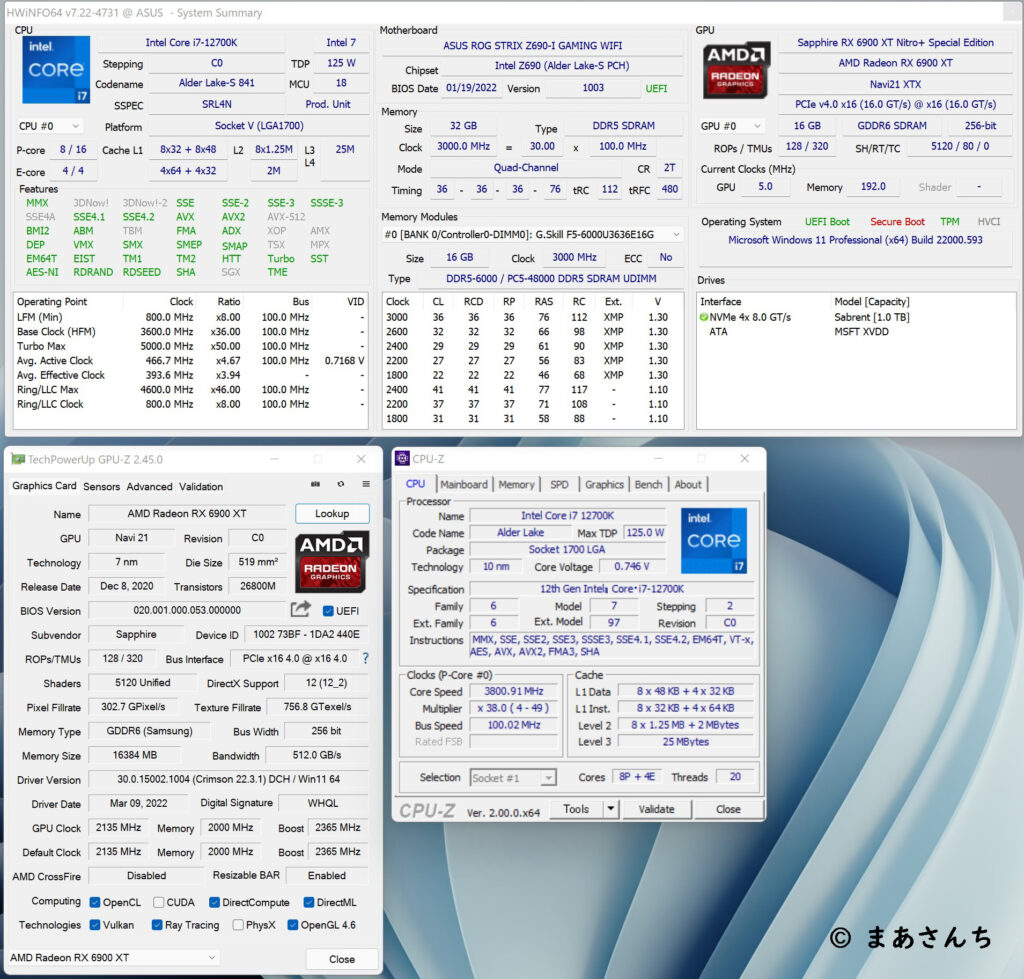 Cinebench R23 of course ran perfectly, CPU package max 90°C, score (multi) 22,579. If I limit the power, I can improve the performance per watt even more (I am a processor with K, but I limit it).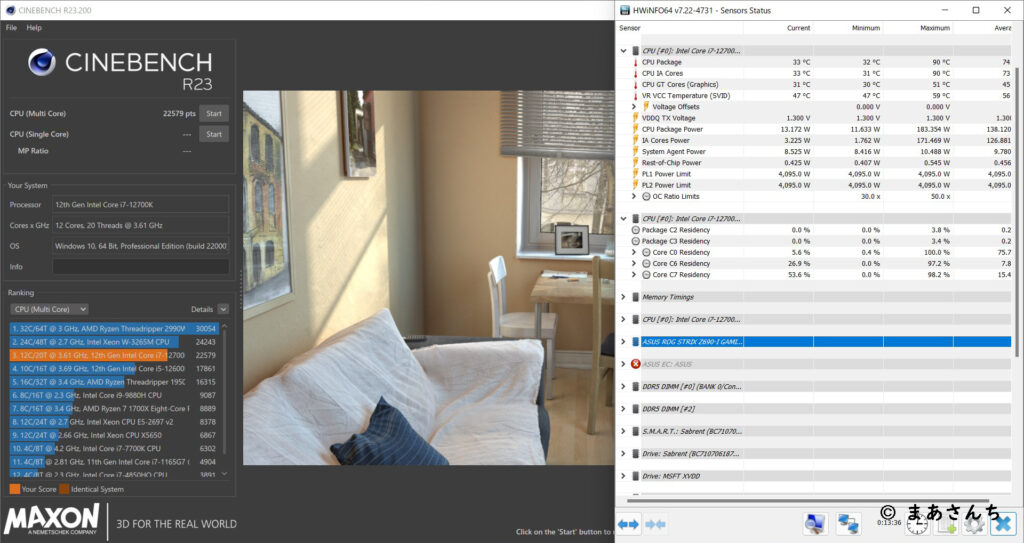 FF14 Bench FHD Highest Quality 30,484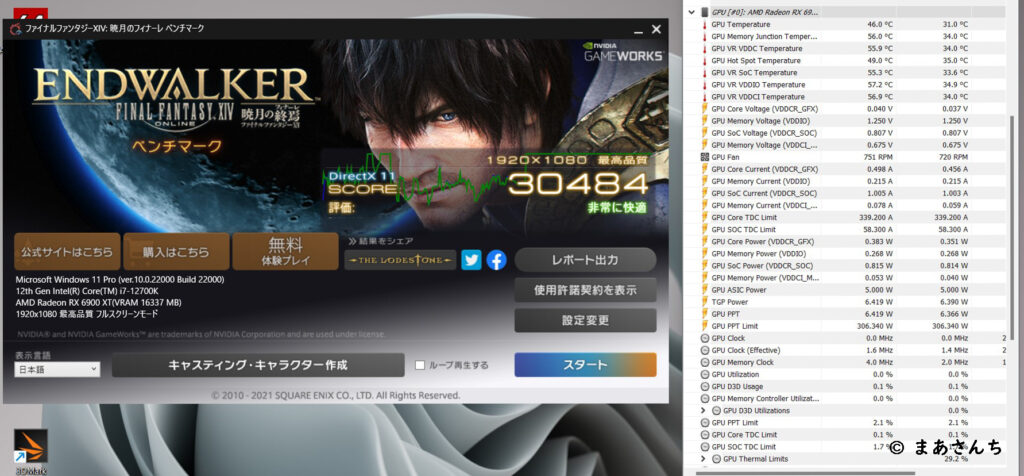 Temperature change during FF14 benchmarking (room temperature 25°C)
CPU max. 69℃ approx., GPU max. 72℃ approx.
3D Mark Time Spy results

RX 6900 XT 20412
By the way, 3090=19145, 3070=14171
summary
The best Mini-ITX machine ever made.
The 12th generation Intel is excellent, and with or without a K, it can be run without much heat as long as power is limited. And it can accommodate a large graphics card. It was fun to build.
Good point!
Specs that can reliably cool a high-heat-generating CPU like the 12700K with 240mm AIO simple water-cooling
Relatively" affordable price (a little over 20,000 yen)
This is the case when compared to a high-end ITX case.
Large GPU can be mounted.
Disappointing points
Quite difficult to handle cables (especially MB power supply)
Very poor availability (out of stock in almost all stores and mail order as of the beginning of 2022.04)
Somewhat flimsy feel (cost issue? (A little more thickness would increase rigidity)